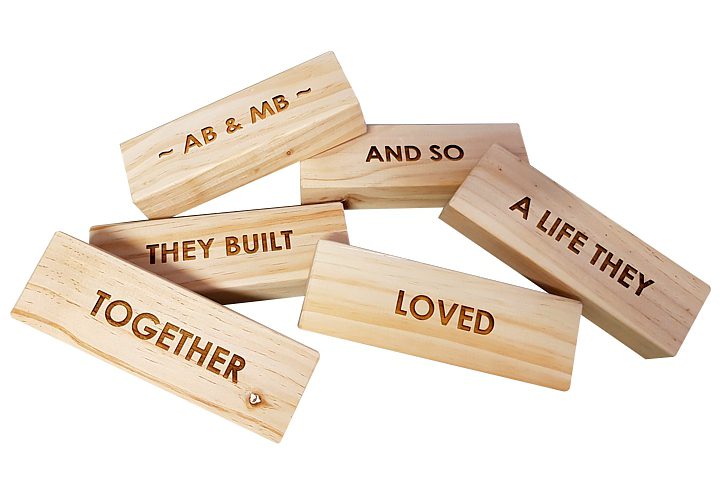 We can probably all agree on the fact that laser engraving wood is a surefire way to create some truly timeless gift items, producing quality engraved wooden blocks, signages, ornaments etc. There's just something about the high contrast finish and satisfyingly smooth grain of engraved wood that makes it the perfect material for producing personalised keepsakes. 
In fact, the majority of the wood laser engraving projects that we've completed here at Vector & Raster were developed purely because a client was looking to produce something imbued with meaning, whether it be for themselves, for their loved ones, or even to compliment the ethos of their brand or company. And although laser engraved gift items are sure to be well-received year-round and regardless of the occasion, they make for particularly poignant presents to those celebrating anniversaries, engagements, or some of life's other romantic milestones.
The engraved wood project that we'll be looking at today is a personalised wedding favour that's so elegant in its simplicity: a set of laser engraved wooden blocks that double up as fun Jenga-style blocks for wedding guests to enjoy.
The importance of laser engraved wooden blocks
Stick with us as we deep dive into this laser engraving wooden block project and share a few of our own expert insights into what makes for a great engraved wooden gift. In this blog, we will specifically be discussing:
Why make laser engraved wooden blocks?
Laser engraved wooden blocks are a whimsical and unique keepsake that can be used to mark any special occasion, ranging from 1st birthday parties to engagements and weddings. In the context of weddings, wooden blocks that are engraved can serve a number of different purposes. Not only can they be used as keepsakes, but they can also double up as table numbers or guest seating plaques. And thanks to their simplistic and sturdy design, your wooden engravings are likely to last a bit longer than paper or cardboard guest seating plaques.
That being said, when it comes to producing high-quality laser engraved wooden gift items, it's essential to think about how that gift item will be used. For example, one of our previous wood laser engraving projects saw our laser specialists produce wooden serving boards. As these boards would be used for preparing or plating food, the best wood materials to use for them would be either bamboo or hardwoods over softer woods. Our laser engraving specialists took this into account when preparing to take on this project. 
And a similar process was used to prepare for our laser engraved wooden block. We'll go into more detail on this below.
A closer look at our custom-made laser engraved wooden blocks
This project started when one of our clients inquired about producing their wedding favours with us. They were after an engraved wooden gift item that would match their contemporary wedding theme and decor. We landed on the idea of producing laser engraved wooden blocks, customised to include the names of the newlywed couple as well as a few words that could be strung together to form sentences (to complete their love story!).
The supplied blocks were made of Pine due to their affordability, beautiful warmth and amazing varying wood grain, and to ensure that these fun wedding favours could be played with without fear of being too heavy, due to their size.
Our clients were delighted with how these whimsical wedding sentiments turned out. They simply could not wait to share these custom-made wooden blocks with all of their friends and loved ones.
These customised wooden blocks are a testament to the beautiful warmth that laser engraved wood can bring. In a nutshell, laser engraved wood is a highly popular material for creating engagement parties and wedding favours (or even wedding invitations) for a reason.
Other wedding favours like laser engraved wooden blocks
If you're not quite ready to say 'I do' to our wooden blocks and are wondering what other kinds of wedding favours we're able to create, then you're in for a treat because our list of other cute wooden wedding and engagement keepsakes is substantial, to say the very least. Furthermore, our specialists here at Vector & Raster have also had a fair share of experience creating engraved wedding signs, guest boards, table numbers and guest seating plaques, coasters, novelty gifts, and a plethora of other laser engraved wedding keepsakes. If you can imagine it, chances are we'll be able to produce it for you in time for your big day!
And remember that when it comes to laser engraving wood, there's a lot more that you can personalise than just the text or image that you're looking to engrave on the surface of your wood material. In fact, you can even select the types of wood you'd like to use in order to produce your engraved wooden blocks. Are you looking to use solid Acacia to compliment a hardwood Acacia table that's on your registry? Or would you like to use bamboo to keep your wedding as eco-friendly as possible?

Here are just some of the wood materials we have for laser cutting and engraving here at Vector & Raster:
Bamboo

Hoop Pine Plywood

Hardwoods (Ash, Birch, Maple, Oak, Walnut, etc.)

Pine, Cedar, & other softwoods
You may even decide to combine your engraved blocks with other materials like engraved acrylic and other plastics or even metals. It's entirely your decision which materials you'll use for your own wood laser engraving project. Just work with our team to select the perfect wood material to suit the item you're looking to create. And rest assured that we'll have exactly the wood material you'll need here at Vector & Raster to complete your laser engraved wooden blocks or any other gift item in perfect alignment with your project brief.
Why call on Vector & Raster to produce wooden wedding favours?
Here at Vector & Raster, our wood laser engraving and cutting services are often called upon for many different applications – ranging from creating personalised keepsakes to producing detailed custom wooden signs. Laser engraving onto wood can be used for a never ending list of applications, and just when you think you've seen it all, we get crafty clients that brainstorm fantastic new products. It's never a dull moment in the laser engraving world – and that's just the way we like it.
We also love helping people celebrate all their big milestones, whether it be a new baby announcement, an anniversary, a big birthday, or your nuptials. If you have a concept for laser engraved serving boards, wooden ornaments, or other wooden gift items that could make for perfect wedding favours, then our team of passionate laser engravers will be thrilled to hear from you.
Get in touch with us today to inquire about our expert services or to grab a free quote on your next laser cutting or engraving project.