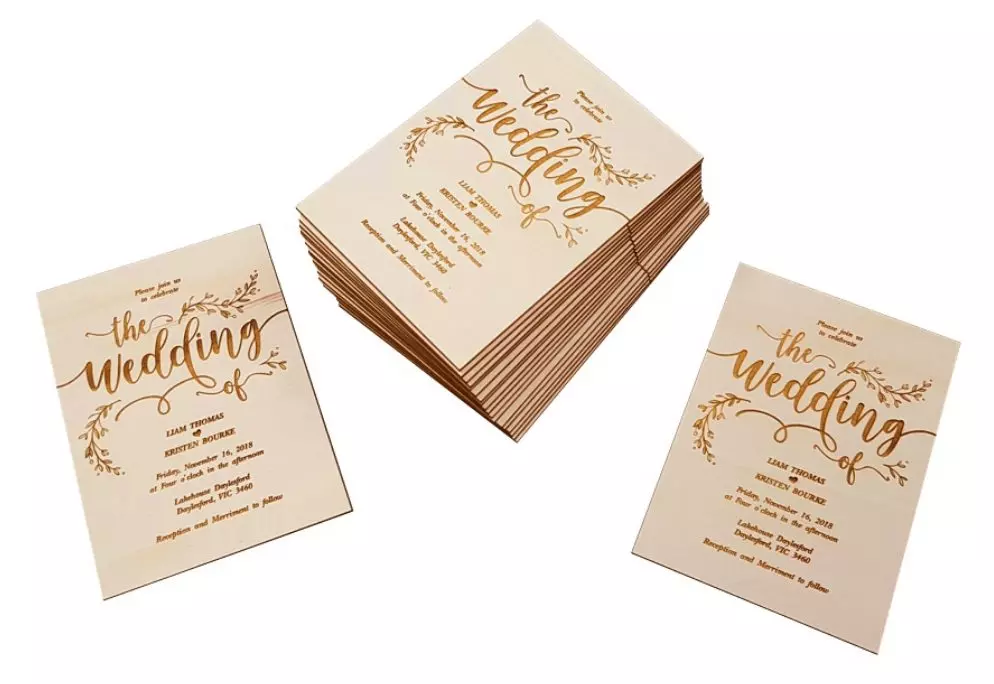 With summer encroaching on us and spring dissipating into distant memory, a lot of people are starting to order their laser cut wedding invitations. This comes as no surprise, of course, as Australian summers are a perfectly picturesque time for those that are looking to tie the knot. Plus, with couples across the country pushing to make their special day as beautiful as it can be, laser cut wedding invitations are an obvious choice.
At Vector & Raster, we have had the pleasure of helping thousands of customers add something special to their events. So, whether you're planning a wedding yourself, or just want to see what all the fuss is about, let's take a look at the tastefully trimmed topic of laser cut wedding invitations!
Why Are Laser Cut Wedding Invitations Popular?
The special day isn't special by name alone. People want their weddings to stick in the mind as dreamily perfect events, with loved ones gathered together and a custom marquee to support everyone. To ensure your memories will last a lifetime, which can be seen in every step of the wedding planning process. Your wedding invitations are often the first introduction your guests will have to this momentous occasion, so naturally, they are a treasure trove of creative potential.
For those that really want to impress with their invitations, there is no better choice than laser cutting. Offering sleek, clean lines on even the most intricate of designs, laser cutting opens up your invitations to be as classy or complex as your imagination allows. From simple detailing on card or paper to beautiful statement pieces designed using plywood and other sturdier materials, the sky is truly the limit.
Some customers come to us with hopes of elegant floral designs cut from card, others will want a silhouette of the happy couple etched into wood as a memento they can cherish forever. Whatever the design may entail, we at Vector & Raster can deliver. Laser cutting also allows for speedy duplication, which is an absolute must when you're sending out hundreds of invitations.
What Options Are Available?
When you think of wedding invitations, what comes to mind? Likely, the answer is a printed "You're Invited" on paper stock or card tucked neatly into a clean, opaque envelope. While there's absolutely nothing wrong with this method, it is by no means the only one available to you. At their best, an invitation can be a work of art in and of itself, and with laser cut wedding invitations, there's nothing stopping you from bringing your vision to life.
You have your pick of materials when working with Vector & Raster, which include, but aren't limited to:
Card

Acrylic

Wood

Many, Many More
With that in mind, your options don't end with your choice of material. Given that we offer both laser cutting and laser etching, our laser cut wedding invitations can be as complex as you need them to be. Using multiple coloured layers, we can create invitations that offer depth and intricacy that simply isn't possible or plausible with other forms of cutting. So, if you're looking to really capture that wow factor, laser cutting is definitely the way to go for your wedding.
~

At Vector & Raster, we have helped thousands of businesses and individuals turn their visions into reality with premium professional laser cutting services. Want to find out more about what Vector & Raster has to offer on your special day? Contact us today! Alternatively, stay up-to-date with our blog for more tips & information on all things laser cutting.