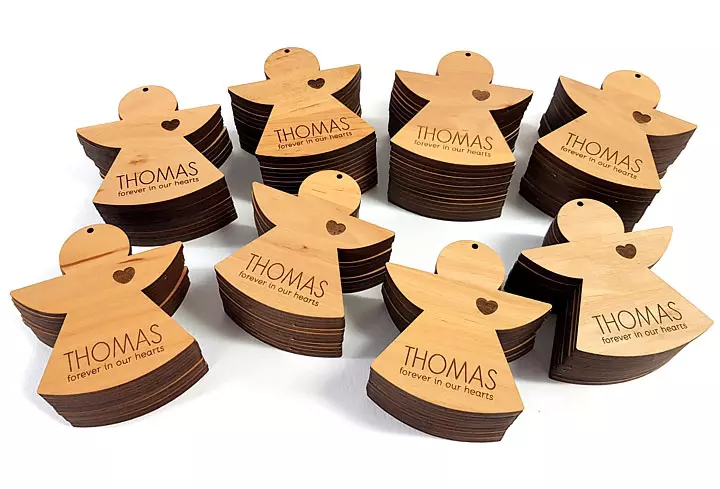 Christmas is an absolutely amazing time of year for those of us that love expressing ourselves through design. After all, the holiday season has such an iconic look, mixing festive cheer with symbolism spanning everything from Yuletide to images of religious significance. In other words, you have a considerable amount to pull from when planning out the form your festive spirit takes. Through the years, this exciting prospect has led to businesses and families alike coming to us for all manner of unique ways to deck the halls and bring some extra personality to their decor.
As one of Australia's leading laser cutting service providers, we at Vector & Raster have experience working with all kinds of materials, designs and needs. So, with over 20 years of experience assisting in the creation of magnificent decorations and unique pieces, let's take a look at how solid wood Christmas ornaments can bring a little extra sparkle to your spaces!
First thing first…
Why Use Solid Wood For Christmas Ornaments?
This is a fair question, given that the past few decades have seen Christmas ornaments shift from their more natural roots into other synthetic materials. However, whilst the classic Christmas aesthetic may be ever-changing, there's something truly iconic and timeless about wooden ornaments. The material is sturdy, durable and long-lasting, meaning that it will be perfect for anything from signs to baubles to, in the case of our inspiration for today's article, beautifully minimalist Christmas angel ornaments.
Solid wood laser cut products can come in a wide array of styles, including:
Badges

Interior signage

Ornaments

Decorations

Novelty items

Much, much more
The fact of the matter is that people just love wooden designs. They feel timeless, yet still offer some rustic charm that simply cannot be found in many other materials. So, if you're looking for a way to make your Christmas decorations feel eternally charming and lovely, solid wood Christmas ornaments are the way to go.
Are There Any Preferred Types of Wood?
Whilst there will be some types of wood that appeal to some people more than others, it really does come down to personal preference. Regardless of your choice, every wood sheet is going to have slight colour and grain variations, making each one feel beautifully unique from one another.
Some popular choices include:
Maple

Walnut

Cherry

Alder

Oak
Regardless of your specific preference, these wood sheets also offer a smooth, satin-sealed finish, making them feel extra luxurious. Plus, for certain special applications, a quality double-sided adhesive can be applied to the rear of the solid wood sheets.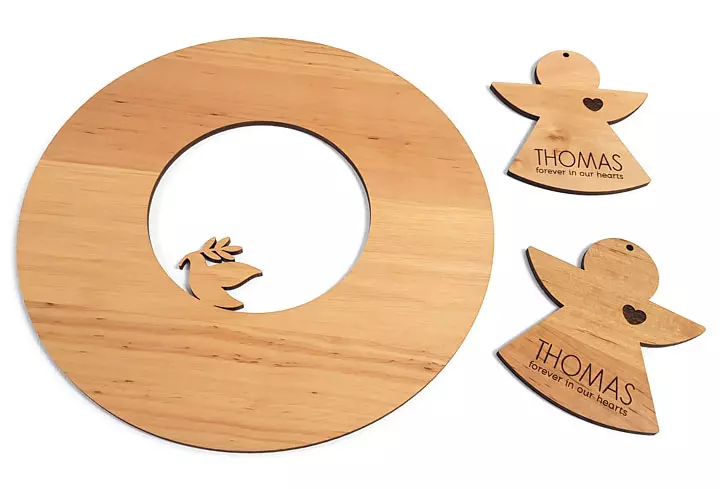 Engraved Essentials
One thing that makes solid wood Christmas ornaments an enormously popular choice with businesses is the ability to use fine engraving methods to customise any given piece. The only real limit is your imagination, from logos to custom messages to stylishly intricate detailing. Whilst the above project ended up being more minimalist and simple in its final design, laser cutting is known for its fine detailing and can be used to create cuts with far more precision and specificity than more traditional methods.
Why Work With Vector & Raster For Solid Wood Ornaments?
Especially when it comes to larger, more esoteric projects, it can be difficult to find a company with a proven track record of doing exactly what you need them to do. So, if you are planning to work with a laser cutting business, you'll want one that has years of very varied experience to ensure that you are getting the best, most effective solution for your needs. We have various intricate wood designs to show you. 
At Vector & Raster, we have well over two decades of experience working with all manner of laser cutting projects. From manufacturing to art and fashion design, you'd be hard-pressed to find any laser cutter in Australia with a more varied portfolio. So, if you're ready to take your vision to the next level and turn it into a beautiful reality, get a free quote with Vector & Raster today, or follow our blog for more fun, unique laser cutting tips.