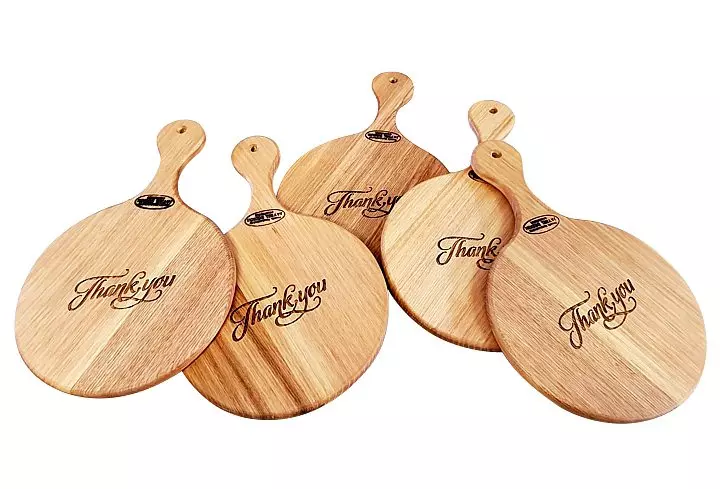 It's no secret that we absolutely adore wood laser engraving here at Vector & Raster. The warmth of engraved wood is an instant crowd-pleaser in a wide variety of settings, ranging from an intimate dinner party, to a corporate celebration. This is what makes laser engraved wooden items a highly popular and truly timeless customised gift idea.
And if your engravings are handled with absolute care and expertise, then chances are high that the engraved message or imagery on your wooden gift will last for a whole lifetime, providing your gift recipient with a message or sentiment that they can treasure for decades to come.
Although Christmas is right around the corner, it's certainly come a touch early for our laser engraving specialists, as more wooden gift projects make their way into our studio. If you're hoping to give some warm, wooden customised gifts to your loved ones this Christmas period, then you're going to love the wood laser engraving project that we'll be exploring today.
Best types of wood for laser engraving
When it comes to planning out a wood laser engraving project, generally the first point of action for many is selecting the wood material you'd like to use as the surface for your engravings. We offer a variety of wood materials to be used for laser cutting and engraving here at Vector & Raster, including:
Bamboo

Plywood

Hoop Pine

Poplar

Alder

Hardwoods (Ash, Birch, Maple, Oak, Walnut, etc.)

Pine, Cedar, & other softwoods
We also take efforts to ensure that all of our wood materials used for laser engraving and etching are locally sourced from Australian suppliers wherever possible, allowing you to enjoy high-quality wood materials at reasonable price points for Australian raw materials. 
Selecting the best type of wood for your engraving project will generally require considering what you'd like your final engraved end products to be used for. For example, hardwoods like Walnut and Acacia are better suited for wooden serving boards or platters as they're denser and thus less likely to splinter, making them substantially more food-safe.
Contrastingly, plywoods and MDF can be fantastic for creating end products like wood templates, wooden ornaments, wedding invitations and placecards, architectural models, craft projects, and assembly jigs for construction and carpentry. Our hardwood materials are also available in smaller sheets with a thickness of 5mm, meaning that they can also be used instead of composite woods for the majority of applications we've named above, as well as custom engraved signage, displays or stands, small furniture and decor items, or all other items that could theoretically bear custom product branding.
Our laser engraved wooden paddle serving boards
Now let's take a look at one of our more recent projects that saw our engraving specialists working with wood. One of our clients, a local woodworker, reached out to us to see if we could engrave their own independently cut and produced Tasmanian Oak paddle serving boards. The client required a message to be engraved on these beautiful, round serving boards within a strict time frame. They intended for the paddle serving boards to be Christmas gifts for the teachers at their grandchildren's primary school.
We were more than happy to take on the project, having engraved company logos onto wooden grazing boards before. Alongside wooden grazing boards with engraved sentiments making for great personalised or customised gifts, they can also be superb promotional materials for businesses. After all, there's something very heartwarming about seeing your own personal logo or branding engraved onto the surface of Australian hardwood.
Our laser engraving specialists mocked up a design using a timeless cursive font, and then presented final design concepts to our client. Once the client approved final designs, we got right to work on completing the engravings.
As you can see, the laser engraved paddle serving boards turned out to be pretty stunning. The high-contrast presentation and uniformity of the cursive 'Thank you' in the centre of the board is made even warmer by the look and feel of the Tasmanian Oak itself. Suffice to say, our client was instantly pleased, and they have no doubts their grandchildren's teachers will be as well, come the end of the school year. 
Why use Vector & Raster for your wood laser engraving project?
What can you do with wood laser cutting or engraving? Our laser engraving specialists at Vector & Raster have had extensive experience handling wood laser engraving projects for a wide variety of clients and applications. We've produced production runs of wooden promotional products for an array of well-known brands, including automotive manufacturers, soft drink companies, local restaurants, independent artists, and many more.
Outside of our commercial projects, our specialists at Vector & Raster also have a passion for taking on engraving projects in order to help create customised wooden items to be given as gifts. If you have a concept for engraved wooden ornaments, serving boards, or other wood items, we'll be happy to chat about bringing your customised wooden gift idea to life. 
Want a free quote on your next laser cutting or engraving project? Simply fill out our online inquiry form to receive a free no-obligation quote sent straight to your preferred inbox.