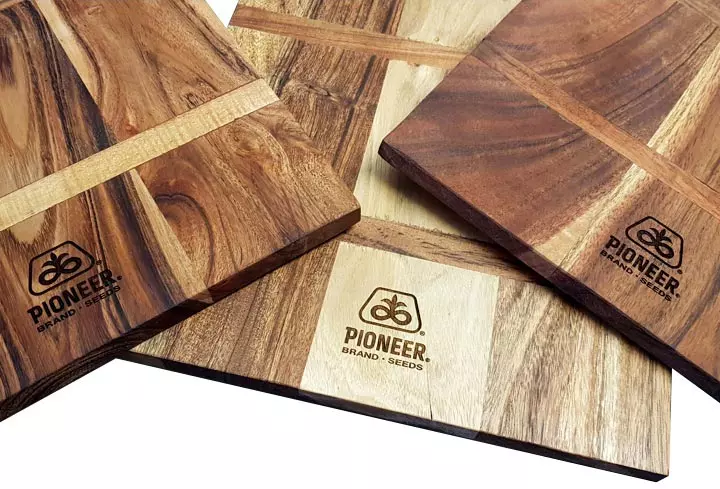 Here at Vector & Raster, we strive to maintain a discipline to accept any and all projects that come our way. 'No' is not a word that we like to vocalise, and the only time we really do is when we believe that a project can be completed in a more effective way and to a higher standard of excellence. The project that we'll be exploring today involved us saying 'no', but for a very good reason.
Laser Engraved Grazing Boards
We've had our fair share of solid wood engraving projects, ranging from engraving coconut bowls to producing stunning topographic plywood maps. Of all the wooden goods that we've had come through our studio, there certainly hasn't been a canvas that displays the mastery of our laser engraving specialists as well as solid wood grazing boards or charcuterie boards. Even without laser engraving, these gorgeous wooden pieces can make fantastic gifts for culinary enthusiasts or standout accessories to be displayed in domestic or commercial kitchen spaces, amongst many other things. 
So what are the benefits of laser engraving your wooden serving board? For starters, laser engraving is an extremely popular method for styling all types of corporate branding as it is long-lasting and looks classy. Alongside this, laser engraving gifts or party favours can add an extra personal touch to the grazing boards or other wooden goods that you produce. 
We'll be exploring the best practices for solid wood engraving today, and providing a little insight into just how to care for your wooden grazing boards once they've been engraved. 
Best Types Of Wood To Use For Your Grazing Board
Here at Vector & Raster, we've worked with a wide variety of different types of wooden laser cutting materials for both laser cutting and solid wood engraving projects. Whilst we can produce many of our wooden goods using a wide range of wooden materials, it takes a specific type of wood to make high-quality wooden grazing boards. 
As grazing boards or serving boards are usually used as cutting surfaces and for food presentation, it's imperative that the wooden materials used to produce the board have a minimal risk of splintering. This is achieved by sanding and treating the wood during production, alongside ensuring that only quality pieces of solid, non-porous hardwood are used to make the board. Hardwoods like acacia, teak, maple, and walnut.
Alongside these hardwood materials, bamboo can also make for a fantastic, lightweight alternative for the production of wooden grazing boards, as bamboo is highly dense and is thus resistant to water absorption with minimal treating.
Other popular materials for engraving corporate products and promotional items include acrylic, metal, plastic, cork, and more. Even with this wide assortment of materials for laser cutting and engraving, both our clients and our laser cutting specialists alike can agree that solid wood engravings make for some of the most satisfying and luxurious end products.
Our Project
Our laser engraving specialists have had a fair share of solid wood engraving projects under their belts at this point in our 20 years of laser cutting and engraving here at Vector & Raster, but we've selected one of our favourite and most recent projects for the purposes of this article. This project saw our laser engraving specialists produce a selection of laser engraved wooden grazing boards for a corporate client who was looking to boost their brand recognition in the food and agriculture sector. 
As is the case with many if not all of our projects, this creative endeavour started with nothing but a one word idea: artistry. What could present our client as a veritable force in their industry, and link their product with culinary artistry? It didn't take too long at all for the concept of solid wood engraved grazing boards to come up. From there onwards, our laser engraving specialists made it their mission to deliver solid wood engravings that were reflective of the care and artistry that went into cultivating our client's own products. 
These solid wood grazing boards started off as high quality pieces of single hardwood timber, before being professionally engraved right here in our studios at Vector & Raster. From there, we simply sent them onto our clients, who were thrilled with their finished product. 
How To Care For Your Laser Engraved Grazing Board
If you're at all concerned that laser engraving your wooden grazing board may result in extra maintenance down the line, then we're here to set your mind at ease! So long as your solid wood engraving project is handled with care by experienced laser wood engravers, your wooden grazing board should more or less require the same amount of maintenance as a board that hasn't been engraved.
As is the case with all grazing boards, you'll want to ensure that your board is kept dry wherever possible to minimise risks of deterioration due to water damage. Oiling your board after cleaning will also help your board stay in good condition when it's not in use. Of course, be sure to wipe any excess oil off with a cloth before you place your grazing board back in storage, just to minimise risks of oil build-ups in your kitchen cupboards.
Our laser engraving specialists make sure that the wood engravings are positioned away from cutting or food preparation areas on your wooden grazing board, as using knives on the engraving may lead to the engravings growing dull over time. This is why you're more likely to see our wood engravings on the edges of your grazing board rather than in the centre. We can however engrave your grazing boards wherever you prefer, depending on the intended application.
Why Choose Vector & Raster For Laser Engraving Grazing Boards?
Whether you're looking to add a corporate slogan on your wooden board or personalise a charcuterie board for a loved one, you'll want your engraved grazing board to look its best for years if not decades to come. At Vector & Raster, we take pride in ensuring that all of our laser engraved wooden products look their very best. Our team of wood engravers use only the finest wooden laser cutting materials to deliver solid wood engravings that are as true to your provided source material as possible. Use Vector & Raster laser services when quality and reliability counts.
So, whether you're still brainstorming for your next creative project or are on the hunt for large corporate quantities of branded materials to promote your business or organisation, speak with one of our specialists today. You can even get a quick quote online when you fill in our online inquiry form.