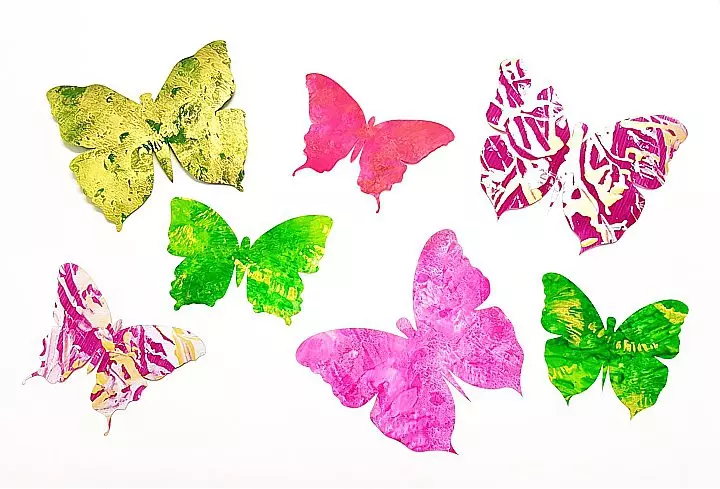 Working with mixed media creations (or combined/various materials) is always a treat for our laser cutting specialists here at Vector & Raster. There are just so many possibilities when it comes to processing unique, one-of-a-kind materials, especially for clients who are looking to produce creative projects, be it in the visual arts scene or for fashion and textiles productions.
With that, you can imagine our excitement upon receiving a pretty unique precision laser cutting polyester plastic job in the recent past. This particular project saw us cutting thin polyester that had been hand-painted by the client. Yes, hand-painted materials can actually be run through laser cutting and engraving machines!
Before we get into that project, however, our laser cutting pros would like to take a minute to explore the wonders and expansive potential of precision laser cutting plastics, starting with polyester. Read on if you're looking to embark on your own laser cutting plastic project.
Precision Laser Cutting: Common applications of laser cut plastics
There are truthfully countless production and application possibilities when it comes to laser cutting plastics. For instance, laser cutting acrylic can be a great method for creating acrylic decor items and other homewares. Mylar, thinner acrylics, and other pliable plastics can also be used to produce plastic stencils for use by visual artists, street artists, or even in the automotive industry, namely for customising cars.
And what about softer materials like polyester fabric? As you may know, synthetic fabrics are commonly used in costuming and fashion, as well as in the production of furniture and homewares. For this reason, laser cut polyester can actually be used for a plethora of different purposes, from the production of clothing to curtains. In other words, virtually anything that can feasibly be made with polyester, can also be made with laser cut polyester.
Other materials that can be used for precision laser cutting
On top of precision laser cutting having a wealth of applications within and around the fashion and homewares markets, working with more rigid materials (like acrylic and other thicker plastics) naturally opens up a whole other world of possibilities. Some other more rigid materials that can be used for laser cutting include wood and wood composites like MDF (medium-density fibreboard), as well as a range of metals, from anodised aluminium for the production of labels, to stainless steel, which is commonly used to produce business signage and identification tags.
There are also a wide range of different natural and synthetic fabrics that can be used for laser cutting fashion projects. Alongside polyester, our precision laser cutting specialists at Vector & Raster have also worked with:
Silk and satin
Organza and georgette
Leather
Lycra and nylon
Denim
Chiffon
Felt
Canvas
Fabrics can often be a bit trickier to process through a laser cutting machine, but only because these materials require a deft and precise hand. Fabrics must be placed with care on the cutting bed and be properly aligned to ensure the most accurate end results. This is a process that our precision laser cutting specialists handle on a daily basis, so all of our laser cut fabrics and fashion projects naturally turn out just as our clients requested!
Our custom precision laser cut plastics project
Now, let's finally take a closer look at our laser cut plastics project. As we mentioned earlier, the client we worked with on this project provided thin sheets of polyester material that they had painted by hand. The client wanted this material to be cut into various butterfly shapes for a visual art project.
The laser cut pieces that you see above are just a small sample of the production run that was cut for this client. The end result of this project was a large assortment of differently coloured butterflies that could then be used by the client to complete their creative project.
As you can see from the image of our finished product, our precision laser cutting machines were able to cut cleanly and evenly through the painted plastic sheet without discolouring or damaging the polyester material, nor its hand-painted top layer. Naturally, this was a superb result for the client, as the individually painted butterflies boasted a uniformity in their production quality. Just because no two hand-painted polyester butterflies bear the same colours, doesn't mean that they can't bear the same production quality.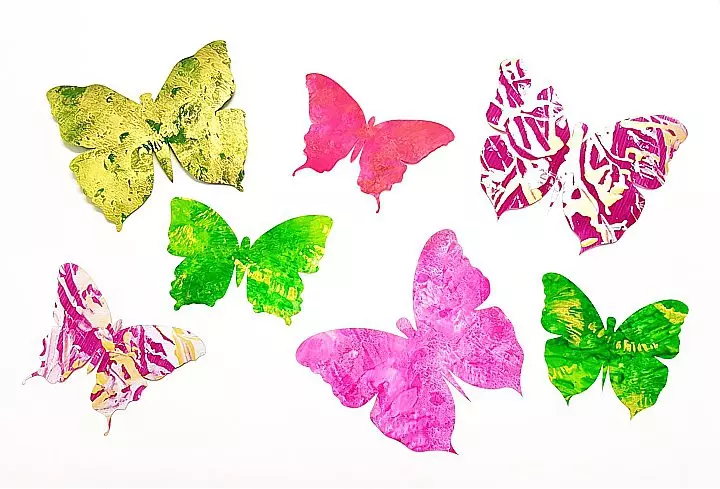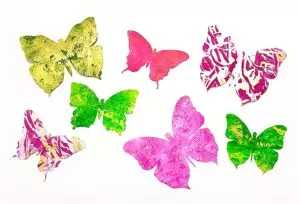 Why work with Vector & Raster on your next laser cutting project?
Our team at Vector & Raster take on a great variety of laser cutting, etching, and engraving projects every day. We're well-versed in creating high-quality pieces that are used for a range of different purposes, from art projects and retail displays, to high fashion, activewear, swimwear, and other consumer fashion products.
We pride ourselves on producing precision laser cuttings that are second to none – the final results of this laser cutting plastics project is testament to this. No matter whether you're cutting a rigid or robust material such as acrylic or wood, or a thin sensitive material such as fabric or paper, our team of laser cutting specialists at Vector & Raster are equipped with all the right expertise and equipment to deliver results that are sure to impress.
Contact us today to inquire about completing your next laser cutting project with Vector & Raster. Our team of laser cutting specialists will be happy to provide you with a no-obligation quote on any project via email and upon seeing the designs you'd like to have produced.