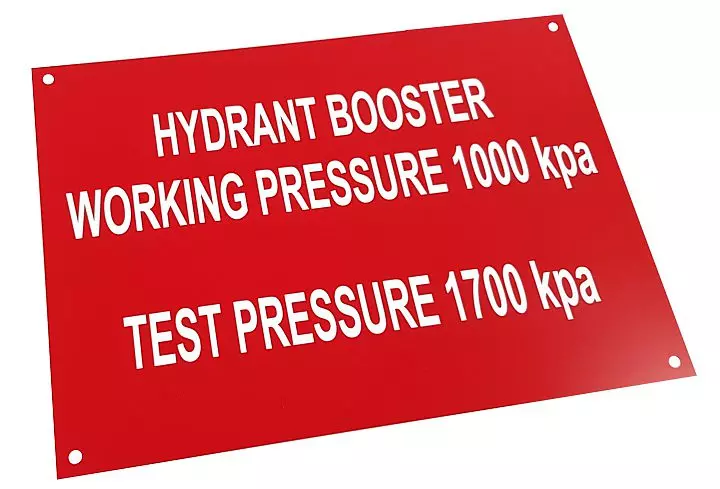 Of all the laser cutting materials that we work with here at Vector & Raster, traffolyte engraving is perhaps one of our most versatile. Yes, this could easily be a pretty arguable statement, because we do work with a range of superb materials that can be used for an array of purposes, from using metal sheets to produce signage for industrial workplaces, to creating custom-made stencils, name tags, and labels with acrylic, mylar, and plywood. Well, believe it or not, but traffolyte can be used to produce all these items too, and much, much more.
In fact, it's safe to say that you've already passed at least a dozen traffolyte signs, labels, and other products today, because this versatile material is so widely used as a sturdier, more durable alternative to other kinds of plastics. But what is traffolyte exactly, and what makes it a suitable material for laser engraving over other types of plastics?
Today, we're going to have a closer look at one of our most recent laser engraving projects that saw our engravers working with traffolyte.
What is traffolyte?
Also often spelt as 'traffolite', this unique phenolic plastic is composed of thin sheets or layers, usually all with different colours. The multi-layered structure of traffolyte sheets allows laser engraving specialists to reveal multiple colour tones when engraving on traffolyte, organically producing the appearance of different coloured text, imagery, or even highly precise QR codes on the surface upon completing the engraving process.
In other words, by using densely stacked layers of phenolic plastic, that naturally high contrast effect produced by laser engraving wood can actually be achieved when working with traffolyte plastics as well, and with more colours too. As traffolyte label type laminates are also available in a wide range of colour combinations, you can even take control over the colouring of text and imagery versus the colouring of the sign or label you're producing. Traffolyte sheets can even be produced to take on a metallic or wooden look. With that variability in mind, it's clear to see why we've dubbed traffolyte to be one of our most versatile materials and traffolyte engraving as a favourite of ours.
If you're wondering at this point exactly what phenolic plastic is, we can provide a little illumination here too. Phenolic plastics are the term used to refer to plastics that are produced with phenol-aldehyde resin. Due to the thermosetting process required to create traffolyte from its liquid resin origins, phenolic plastics like traffolyte are usually a lot more durable in the face of corrosive agents like salt and moisture when compared to metal.
Common uses for traffolyte engraving
Alongside its customisability, the increased durability of traffolyte in comparison to woods and some metals is what makes this material a great alternative for the production of signs in commercial and industrial spaces. Some of the more common applications of laser engraved traffolyte include:
warning and electrical labels
wayfinding and information signs
control panels and fascia boards
name badges and tags
identification labels
Traffolyte sheets can also be produced to bear a quality self-adhesive backing, allowing for traffolyte laser engraving to be installed with precision on a range of different surfaces, including on walls next to building emergency equipment. If you ever come across a fire extinguisher that's installed with plastic test tags and signage, chances are high that both of those accompaniments have been produced by traffolyte engraving.
As we mentioned, traffolyte can also be used for a range of custom creations, including ornaments, displays, tokens, custom badges, and other small sentiments. Check out this other custom traffolyte engraving our V&R laser engraving specialists made for this coming Christmas season.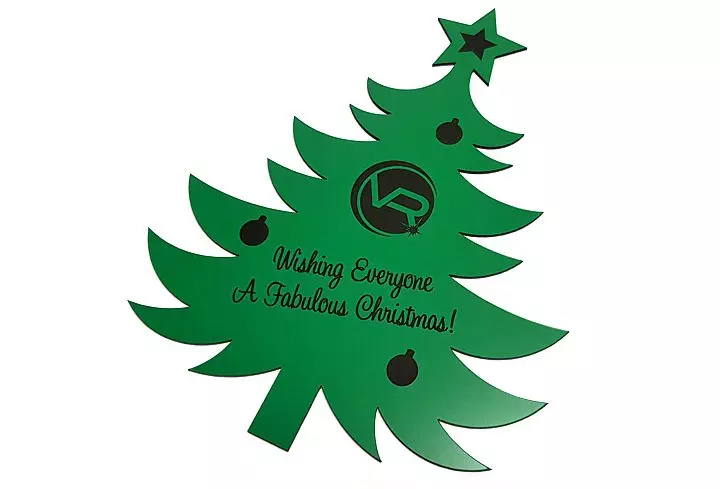 Our latest project with traffolyte engraving
Now, let's focus on the traffolyte engraving project we wanted to explore in-depth today. Our laser engraving specialists were approached by a commercial business owner who required a run of hydrant booster signs and main valve tags. Given the more industrial nature of the workspace, these tags and signage had to be incredibly durable and resistant to text fading or corrosion, just to ensure that the equipment accompanying these products wouldn't be misused or mishandled.
With this environment in mind, traffolyte was the clear choice for the production of these signs and tags. Our laser engraving specialists secured traffolyte sheets with a red top layer and white underlayer to make sure that the finished signs and tags would be high contrast and easily legible from a distance.
Needless to say, the customer was satisfied with the finished results. The use of these traffolyte signs for pointing site workers in the direction of tools and equipment has been effective in improving the safety and security of their workplace.
Why work with Vector & Raster for traffolyte laser engraving?
At Vector & Raster, our traffolyte plastic sheets are available in 0.8mm, 1.6mm and 3.2mm thicknesses. We also offer a 0.1mm adhesive label material that can also be laser etched and cut. We also offer traffolyte plastic sheets in a wide range of colours, meaning you can take full creative control over your engraved traffolyte creations. Our precise plastic laser cuttings and laser engravings are great options for your business.
Whether you're looking to create traffolyte signage for commercial settings or custom-made badges, ornaments, or even stencils for recreational purposes, our laser engraving specialists would love to hear your own concepts for traffolyte laser engraving.
Want a free quote on your next laser cutting or engraving project? Then fill out our online enquiry form to receive a free no-obligation quote sent straight to your preferred inbox.