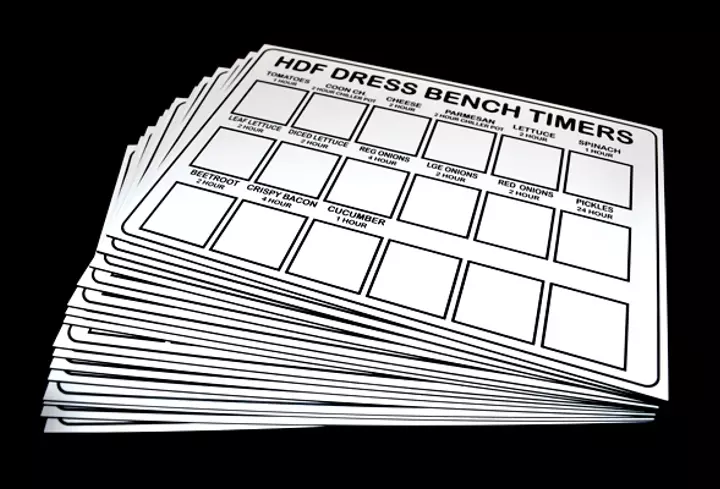 Traffolyte labels are widely seen across a variety of industries and have practical uses. You may not know it, but you've come across traffolyte plastics hundreds if not thousands of times over the course of your life. A versatile phenolic plastic that's typically characterised by its differently coloured layers, traffolyte is used for an ever increasing number of applications, ranging from easy laser engraved labels to custom-made signs, tags, cards, and more. Believe us – once you know how to spot traffolyte, you begin to see traffolyte labels everywhere.
What exactly are the benefits of traffolyte labels over other types of plastic or metal engraved labels? Many consider traffolyte plastic to be tailor-made for the laser engraving process for a few key reasons, including multi-layered construction (for naturally colour-contrasting engraving jobs) and its uniform texture. But there's even more to this plastic than meets the eye.
Today, our laser specialists here at Vector & Raster will be outlining all the key benefits of using traffolyte to produce laser engraved labels. Read over this brief guide on all the benefits and uses of traffolyte labels to determine if traffolyte is the right choice for your own custom labels as well as signage and tags.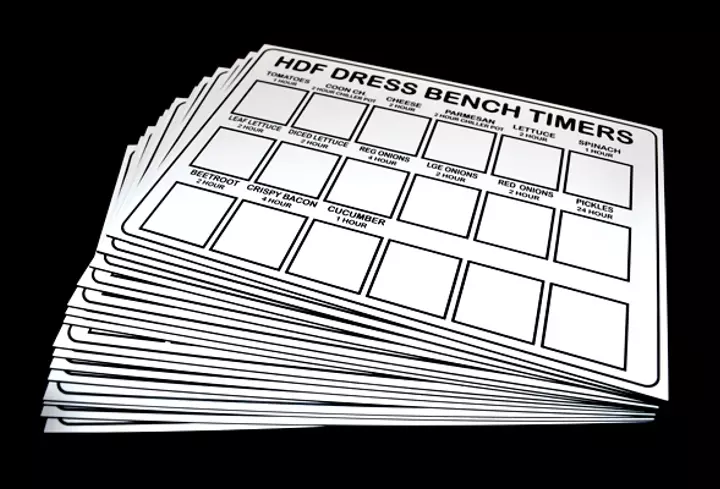 What is Traffolyte?
Traffolyte is the generic name usually used to refer to phenolic engraving laminates or phenolic plastic sheetings.
As we briefly mentioned, one of the main draw cards of traffolyte as an engraving laminate is the fact that it's composed of multiple layers. This allows you to produce engraved designs that are a completely different colour to the top surface of your traffolyte sheeting.
If you've ever seen laser engraved name badges where the engraved text colour is completely different to the rest of the plastic badge, you can expect they're made out of traffolyte.
Why Use Traffolyte Labels?
So why use traffolyte to produce engraved plastic labels? Due to the nature of traffolyte as a multi-layered, easily-engraved laminate, as well as its excellent insulating properties, traffolyte is well-regarded in the electrical engineering industry for usage in laser engraved signs, tags, labels, and any other accessories for tools and equipment that needs to be durable and easily legible.
Given that traffolyte has remained a standard installation material since its invention in 1927, traffolyte labels clearly have quite a few benefits when compared to contemporary plastic alternatives.
Here are just some of the benefits of using traffolyte for producing engraved labels:
A high level of durability and corrosion resistance:
As discussed earlier, traffolyte labels are a go-to option for the electrical industry. This is due to the fact that, aside from simply being a durable material, the traffolyte doesn't conduct electricity. Plus, as an added bonus, traffolyte is also UV stable and corrosion-resistant and can withstand exposure to various harsh chemicals, acids, and solvents. This makes traffolyte labels a vital investment for many industrial workplaces.
Legibility across a range of traffolyte colours:
Traffolyte can essentially be seen as an acrylic sandwich. In the creation of traffolyte, multiple layers of plastic are pressed together, with the inner layer being the contrasting colour. This means that designs, text, and diagrams that are laser engraved into this material are extremely legible alongside being less susceptible to rubbing off, chipping, or accruing other types of wear and tear.
Anti-fading for a longer lasting label:
Whilst similar materials, such as vinyl and ink, will eventually begin to fade over time,  engraved traffolyte is effectively fade-proof. This is primarily because traffolyte engravings are naturally colour-contrasting, thanks to the multi-layered design of traffolyte laminates. Because of this, you can expect your traffolyte labels to maintain their colour and legibility for years after they've been installed.
Flexibility, versatility, and cost-efficiency:
As with most acrylic options, traffolyte can be cut and engraved into a wide variety of shapes, sizes, and designs. And being a phenolic plastic that's incredibly easy to manufacture, traffolyte laminates are available at consistently lower prices in comparison to other laser cutting materials. So whether your job requires something as small as a keychain or as large as a full floor plan, traffolyte is guaranteed to be a desirable and cost-effective option.
What are Traffolyte Labels Used For?
Traffolyte has been seen as a fantastic material for a wide array of uses. Here are just some of the most common applications for laser engraved traffolyte today:
Nameplates, name tags, and badges

Workplace schedules or timetables 

Emergency or warning signage

Floor plan diagrams (i.e. emergency evacuation signage)

Electrical test and tag labels

Operational labels for machinery and equipment
If you're curious about how traffolyte labels can hold up under adverse conditions, then you'll find the below overview of our latest laser engraved traffolyte label project to be a pretty enriching read. So let's get right to it!
Our Laser Engraved Traffolyte Label Project
Our latest traffolyte label project saw us producing clean black and white, high-contrasting labels for a local Australian producer of mechanical lubrication and workshopping equipment. Our client was after heavy-duty display labels that would help ensure the safe operation of their equipment – both on-site as well as in other types of industrial and workshop environments. 
Legibility was a foremost priority, as the client wanted to ensure that all employees and professionals operating their machinery had the information they needed to conduct their work safely and with confidence. The traffolyte labels also needed to bear our client's contact information so operators would know where they'd be able to find additional information if needed.
These labels were also designed to be wall-mountable, bearing a flat and non-intrusive design and a high-contrast text engraving for total legibility from all angles. As you can see from the image provided, the end results were able to provide this high-contrast finish to a tee, alongside delivering clean engraved text, the client's logo, and perfectly legible equipment information in a uniform, sans serif font – all to further support legibility.
Suffice it to say, the client was satisfied with the end products for this traffolyte label project and is looking forward to getting many years of use out of our produced labels.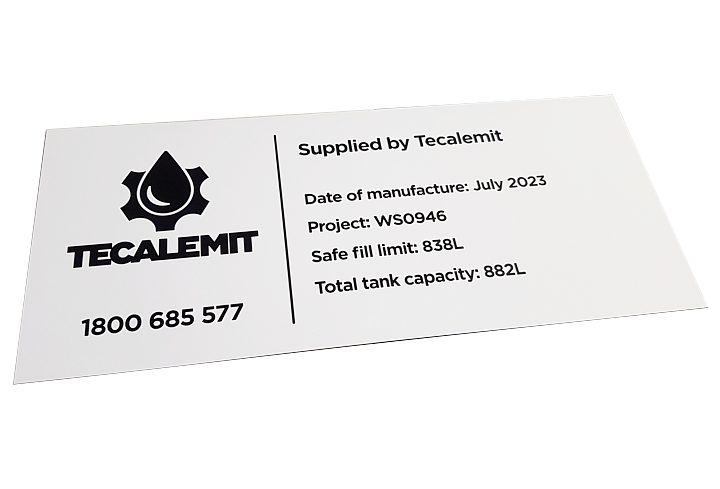 Why Work With Vector & Raster Services For Producing Traffolyte Labels
At Vector & Raster, we have over 20 years of experience working with and creating traffolyte labels. This allows our team of laser engraving specialists to produce traffolyte engraved labels to consistently high standards, ensuring that you can use our engraved laminates for years if not decades to come.
We'll work with you to develop detailed project briefings that will help ensure your final products meet all your expectations. And for even more value, we can help you secure quality traffolyte plastic materials in a range of colours and thicknesses – just to make sure that your next laser engraving labels project has the strongest possible canvas.
Want to see what Vector & Raster can do for you with your next traffolyte engraving project? Then reach out to our team to receive a free quote on your next laser engraving project, or email us at info@vr-laser.com.au for more information on any of our laser cutting and engraving services.