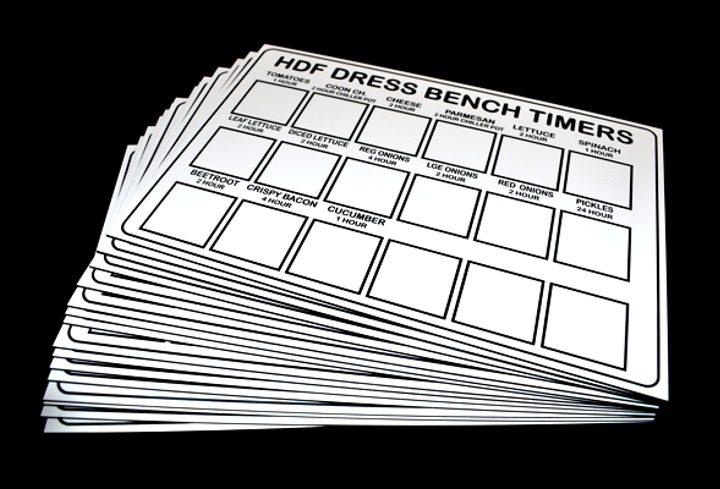 The Benefits and Uses of Traffolyte Labels
While it may not necessarily be a set of words that most people are familiar with, traffolyte is widely seen across a variety of industries and practical uses. Due to the nature of traffolyte as a multi-layered, easily-engraved laminate, as well as its excellent insulating properties, traffolyte is well-regarded in the electrical engineering industry for usage in signs, tags, labels, and more. At Vector & Raster, we have a wealth of experience working with and creating traffolyte labels. So, to help you decide on whether it's the right choice for you, we've put together a brief guide to traffolyte labels.
What is Traffolyte?
Traffolyte is the generic name used when referring to phenolic engraving laminate. One of its main draw cards as an engraving laminate is the fact that it's a multi-layer laminate; allowing you to engrave designs that are defined by the contrasting colour of the inner-core.
Why Use Traffolyte Labels?
Given that traffolyte has remained a standard installation material since its invention in 1927, it clearly has quite a few benefits when compared to contemporary alternatives.. These include:
A High Level of Durability – As discussed earlier, traffolyte labels are a go-to option for the electrical industry. This is due to the fact that, aside from simply being a durable material, traffolyte doesn't conduct electricity. Plus, as an added bonus, it is UV stable and weatherable.
Legibility Through Colours – Traffolyte can essentially be seen as an acrylic sandwich. In the creation of traffolyte, multiple layers are pressed together, with the inner layer being the contrasting colour. This means that designs, text, and diagrams that are laser engraved into this material are extremely legible and won't rub off when compared to other options.
Traffolyte Doesn't Fade – Whilst similar materials, such as vinyl and ink will eventually begin to fade over time. Traffolyte, on the other hand, is effectively fade-proof; still maintaining their colour and legibility for years after they have been installed.
Flexibility and Versatility – As with most acrylic options, traffolyte can be cut and engraved into a wide variety of shapes, sizes, and designs. So, whether your job requires something as small as a keychain or as large as a full floor plan, traffolyte is a desirable option.
What are Traffolyte Labels Used For?
Outside of their use in labeling electrical equipment, traffolyte has been seen as a fantastic material for a wide array of uses..
These include:
Fast Food Schedules/Timers – As with the engraving work we performed for McDonald's, the stark, contrasting colours available with traffolyte makes it an excellent choice for boards, instructions, warning signs, permanent timetables and more.
Name Tags – Given that traffolyte is quite affordable when compared to other materials, such as aluminium , steel, or brass, it has been used as an affordable, durable option for name tags and other small labels.
Floor Plans – If you've come across traffolyte in your daily life, it's likely because it's used to create fire escape plans and floor plans. In the event of an emergency, having an easily-legible floor plan that is fade-proof and very durable is invaluable. This makes traffolyte an extremely attractive option.