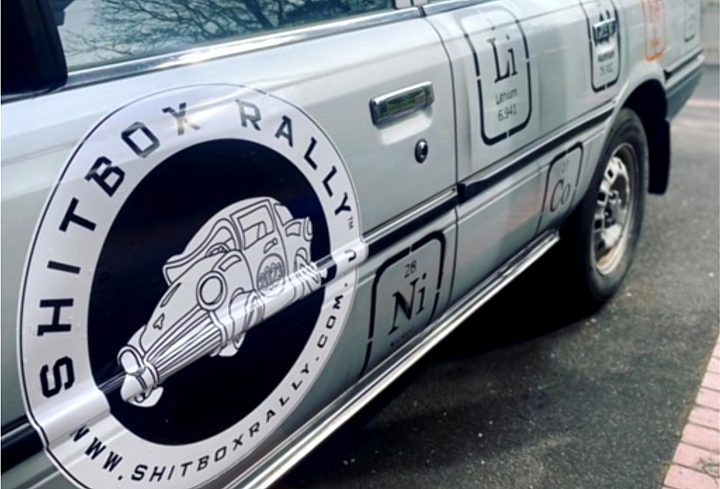 It's never been a better time to be a visual artist. Thanks to modern technologies like laser cutting services, visual artists of today have the opportunity to work with an ever-expanding range of creative tools and equipment. The humble paintbrush can be swapped out for a modern spray can, just as stretched canvas can be swapped out for, well, anything! And if you can paint on anything, why not paint directly onto a car body with some sturdy mylar stencil sheets?
And that's actually what today's project overview is all about. Our laser cutting specialists were fortunate enough to be able to offer their services pro bono to Metal As Anything – one of the teams participating in the Spring Shitbox Rally this year. If you've never heard of Shitbox Rally before, this unique cross-country drive is actually the largest community-led fundraiser for the Cancer Council today, with thousands of participants raising funds to support cancer-impacted families annually. 
There's just one rule: the car that you drive across the country has to be a 'shitbox'. In other words, it needs to have a value of or lower than $1500. So Tim, Hannah, and Anni (the Metal As Anything family) wasted no time in preparing their 1992 silver Toyota Camry (purchased for $850) for the gnarly drive that lay ahead of them. But before they set off, they wanted to ensure their ride was as eye-catching as possible. Enter in the Vector & Raster team.
Stick with us as we break down the true value of the mylar stencil sheets we produced for the Metal As Anything team, and even share a few pics that showcase this project's glowing end results. In this article, we'll be discussing:
What is mylar?
All of our project overviews here at Vector & Raster are designed to educate just as much as they are to engage. So let's start with a quick outline of what mylar stencil sheets are, and what makes mylar a great material for laser cutting stencils.
Mylar (also known as BoPET) is a type of polyester film that's suitable for a wide range of different applications. In fact, you're likely to find Mylar plastic in food and product packaging, printing or die-cutting, fashion production, and even in your electronics, as Mylar has been found to be a great electrical and thermal insulator. Mylar can also be produced in a variety of different sizes and thicknesses, ranging from thin and transparent film to thick, opaque plastic blocks – much like acrylic plastic.
The benefits of using mylar for stencil sheet production
So what makes mylar plastic a superb material to use for the production of custom stencils? For starters, mylar plastic is renowned for its durability, tear-resistant, solvent-proof, and highly flexible bootable. This allows mylar stencil sheets to be bent in a variety of ways with minimal concerns of snapping or cracking. 
The smooth surface of mylar stencil sheets also makes them incredibly easy to clean. Just a simple wipe down with a cleaning solution can remove even the most stubborn paint stains or ink smudges without degrading the clean shapes and designs cut into your mylar stencil sheets.
The uniform texture of mylar plastic also makes it a great material across the board. Our laser cutting specialists here at Vector & Raster are able to produce highly precise patterns into mylar stencil sheets, allowing you to produce your own striking designs. Mylar plastic sheets can also be used to produce other laser cut and etched products, including:
Spacers and shims to be used in die-cutting

Electrical and thermal insulators

Templates 

Nameplates and signage for retail applications

Protective coatings or barriers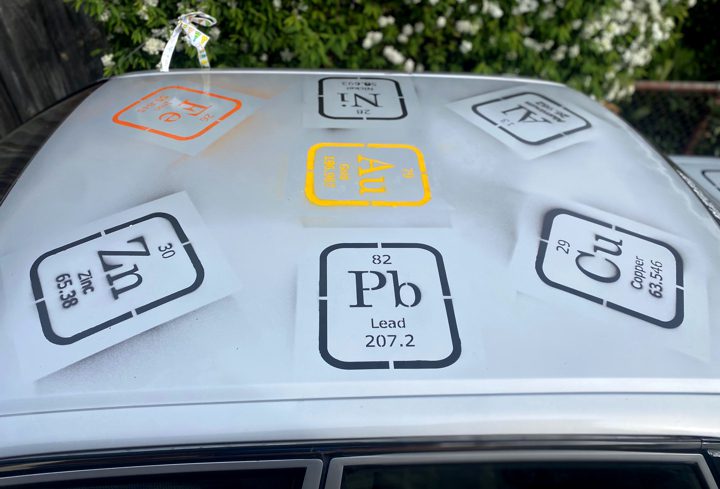 Our mylar stencil cutting project
Now, let's have a look at our latest mylar stencil sheet production project. Vector & Raster were approached by Tim Roberts from the Metal As Anything team to produce custom stencil sheets for the purpose of decorating their 'shitbox' in time for the Shitbox Rally. They were after designs that represented their team – 'metal by name, and by nature'.
We ended up going with some periodic table-inspired designs. This involved producing mylar stencil sheets for every metal that can be found on the periodic table. As you can see from the final results, we really maintained attention to detail here. Alongside including the unique element symbol and name for every metal, our mylar stencil sheets also included the element's atomic number and weight. 
The mylar stencil sheets produced for this project were cut from 350um mylar plastic sheets. This thickness was ideal as it ensured that the mylar stencil sheets would hold up well during use and that they could still be flexible or malleable enough that they could be pressed flat against the vehicle body. This is vital to ensuring that the designs can be sprayed on with minimal paint smudging.
As you can see from the images provided, the end results for this mylar stencil sheet project were just phenomenal. The 1992 Toyota Camry took on new life as a rolling testament to all the metals on Earth. And our own team here at Vector & Raster simply cannot wait to receive more shots of this 'shitbox' in action!
Why choose Vector & Raster for laser cutting mylar stencil sheets?
The team at Metal As Anything was thrilled with the end results of their mylar stencil sheet project with us. But Spring Shitbox Rally 2023 isn't the first time we've produced customised stencils for a worthy cause. In fact, our stencil sheets have brought smiles at countless local and community events, including the Mother's Day Classic, the annual fun run hosted by the National Breast Cancer Foundation.
We also produce mylar stencil sheets for all types of customers and for a wide variety of applications. So whether you're after thinner stencils for arts and crafts projects or thicker, heavy-duty stencils for custom auto works, we'll be able to provide you with the stencil sheets you need. Want to see what Vector & Raster can do for you? Simply contact our team of laser cutting and engraving specialists today to receive a free no-obligation quote on your next project.