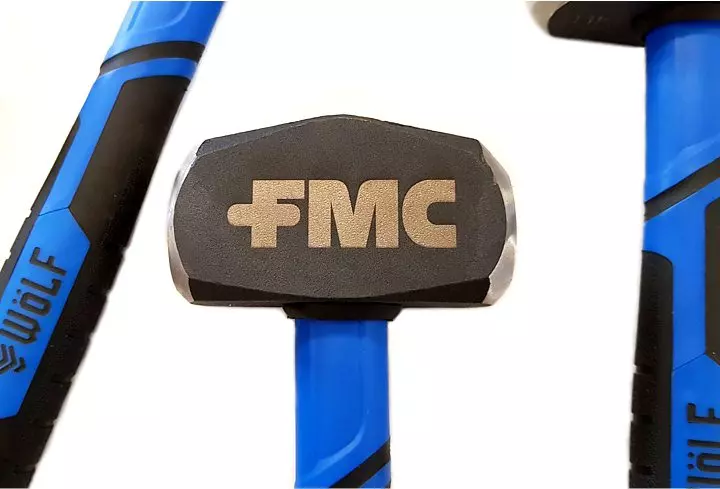 Generally, when people think of promotional products for their businesses, their minds automatically go to products like pens, keyrings, cup sleeves, and other generic 'office-friendly' items. After a certain point, these kinds of overdone branded products don't really promote your business. Instead, they've grown to become expected.
This style of promotional business items are a dime a dozen nowadays, and an influx of promotional product suppliers has made it harder and harder to actually know whether the branded products you've placed an order for are actually of a decent quality. Trust us, you don't want your company name and logo being slapped onto a pen that doesn't even work.
Thankfully, laser etching, including laser etching on metal, makes it possible for modern business owners to turn a diverse array of items into promotional goods. What this means is that business owners can select a product to laser etch their business logo onto that's actually relevant to their client base.
In today's blog post, our laser etching specialists here at Vector & Raster will be sharing some more details about a laser etching project we took on recently. This particular project saw us producing a unique promotional product on behalf of our clients that was designed to leave a lasting impression on their own prospective client base.
Laser etching vs. laser engraving
Laser etching is one of the lesser known laser cutting services we offer here at Vector & Raster. In truth, laser etching is an unsung hero when compared to traditional laser engraving. What are the primary differences between laser etching and laser engraving?
Simply put, laser etching works by lightly removing or altering the immediate surface of your provided material by using high precision laser technology in order to create precise marks that appear as 'etches'. In contrast, laser engraving involves physically removing material with the use of laser technology in order to create deep marks or grooves. Essentially, it's hills vs. valleys, and there are some benefits to opting for 'hills' when producing promotional goods for your business.
Laser etching can be advantageous when producing branded goods for your business, as laser etching processes don't require physically engraving or carving into your promotional products. Laser etching can also be used on a wider variety of material thicknesses. This is naturally ideal if you're producing intricate or functional promotional goods like metal pens or business cards.
–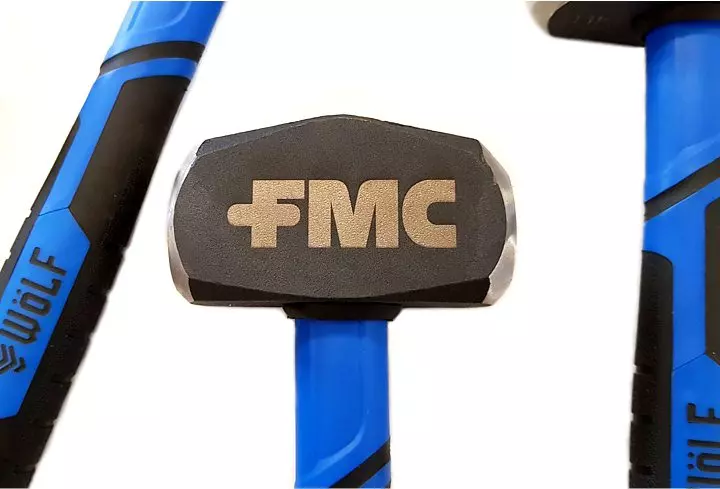 Our branded laser etching project
For this particular laser etching project, our laser etching specialists were given the unique task of etching the client's logo onto the head of a 4lb club hammer. Given that the promotional product we were working on for this laser etching project was particularly hefty and irregularly shaped, our laser etching specialists opted to use a large format laser engraver.
The larger engraving machine allowed for a higher level of laser power that was necessary for etching through the thicker coating of the hammer's head. We decided to etch through this thicker coating in order to achieve a high contrast laser etched logo.
In order to complete this project, our laser etching specialists were prompted to set up a custom jig to ensure that the hammers stayed perfectly in place in the laser engraver and were etched at the required intervals. The jig also helped to reduce overall engraving time, which in turn reduced our service costs for the client.
As you can see, the end result saw our laser etching specialists produce a high quality two-toned etching on the steel hammer head. Despite the hammer head's coating being difficult to etch through, the use of a high powered, large format laser engraving machine allowed our laser etching specialists to ensure that the final products boasted a crisp finish. Opting for laser etching ensures that the hammer head's logo will convey its message for many years to come.
The client was just as satisfied as our own laser etching team with this project's end product. Our crew here at Vector & Raster are also excited to see what other goods we can use as the subject of our new laser etching project for business branding.
What other materials can be used for laser etching?
Over the years, our laser etching specialists here at Vector & Raster have produced many different types of corporate branded products for all types of campaigns, including hammers and other tools, knives and metal accessories, chopping and bread boards – as well as other types of wooden boards.
On top of this, our laser etching specialists have also had experience etching onto external hard drives and other electronic devices, and a host of other wonderful products made from wood, plastic, acrylic, metals such as stainless steel, anodised aluminium, powder coated metal and much more.
In other words, it's possible to laser etch onto a wide variety of materials, with many of the laser engraving materials that we offer here at Vector & Raster also suitable to be used in laser etching projects.
If you'd like to inquire about any particular material or promotional product for your own laser etching project, you can contact our laser etching specialists directly at info@vr-laser.com.au, or by filling out our online inquiry form to receive a response sent to your preferred email inbox.
Why work with Vector & Raster on laser etching projects?
Here at Vector & Raster Laser Services, we love it when our clients think outside the box and request laser cutting or laser engraving for exciting products. If you're a business owner who's looking to produce unique or niche branded goods to promote your business directly to your highly defined client base, then chances are very high that our laser engraving and laser etching specialists here at Vector & Raster would love to see your proposed promotional products be brought to life.
With upwards of twenty years of experience producing high quality laser etched products for business branding purposes, our laser etching specialists here at Vector & Raster are guaranteed to produce your particular promotional goods using the most suitable methods to suit that particular product, and within a timeframe that suits your business campaign.
Want to know more about our laser etching services? Simply get in touch with our team at info@vr-laser.com.au or by filling out our online inquiry form in order to receive a free no-obligation quote sent straight to your preferred inbox.