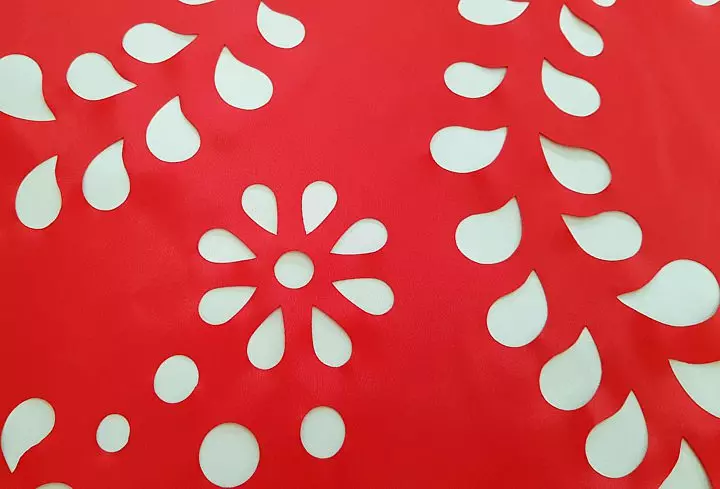 Of all the materials we use for laser cutting, fabrics are amongst some of the most rewarding. Why? Well, because we love a challenge, and laser cutting fabrics wasn't even possible up until recent developments in laser cutting technology over the 21st century. 
Before the advent of high precision laser cutting technology, fabrics were considered too fragile, and in some cases too flammable, to produce high-quality designs. Traditional industrial methods of laser cutting required sturdier materials like timber and sheet metal. Materials like paper, organic fibres, and even man-made polyester fabrics, were all sensitive to traditional laser cutting methods, with designs often coming out frayed, scorched, or boasting imperfections due to materials responding poorly to laser heads. 
Nowadays, however, there are a range of laser cutting materials available that are perfectly suited to the fashion and textiles industries. Today, we'll be taking a closer look at some of the best fabrics to use for fashion projects, alongside exploring a recent project we took on that involved working with lycra in particular. 
Best Fabrics To Use For Laser Cutting
As we mentioned, there is an abundance of fabrics that can be used for laser cutting projects, ranging from organic fibres like wool and felt, denim, silk, cottons, and linen, to synthetic fabrics like lycra, polyester, satin, velvet, and nylon, just to name a few. It's even possible to laser cut leather for a number of purposes, ranging from fashion production to producing homewares.
Synthetic fabrics generally tend to respond best to laser cutting methods as the structure and malleability of synthetic fibres allow the production of an easy sealed edge to fabric designs. Sealed edges can help avoid fraying in the fabrics once laser cutting processes have been completed and the fabric is ready for production with fashion manufacturers. 
Thankfully, the industry-leading equipment and technologies we use here in our studios at Vector & Raster are capable of producing clean, sealed edges on a range of fabrics, including delicate organic fibres like silk and wool, as well as thin leathers. We can offer highly precise services, providing finished and uniform laser cut fabrics that are well-presented and ready for further production processes like sewing and layering.
Diving Right Into Our Laser Cut Lycra Project
One of our most recent projects saw our laser cutting specialists working with lycra fabrics in order to create patterned swimwear on behalf of a client that manages a summer clothing line. The client supplied their own lycra fabric in a range of different colours alongside providing design templates that they wanted to see laser cut onto their swimwear materials. 
Our laser cutting specialists processed the swimwear panels to create highly precise patterns onto the lycra. As you can see, the patterns boast clean, sealed edges to ensure that cut shapes stay uniform in their appearance, and to simplify production processes for the client once the finished panels were sent back to them in order for the garments to be stitched together. 
As lycra is a synthetic material, creating these sealed edges was very easy for our laser cutting specialists. The bold colours of the lycra fabric contrasted with the clean edges of the laser cut designs to deliver some pretty striking end products. We're sure that these swimwear panels will go on to produce some fantastic garments for fashion-conscious beachgoers this summer. 
What Else Can Laser Cut Fabrics Be Used For?
Our laser cut fabrics have been featured in a wide range of settings, spanning from fashion runways and magazine shoots for Vogue and Marie Claire, to homemaker stores and the shelves of clothing retailers all over Australia, and perhaps even internationally. 
Apart from the many large, well-known companies and fashion labels we've cut garments and fabric panels for, laser cut fabrics are also very popular for producing costumes, sets and props in theatre shows, creating window displays for retailers, for craft applications, and many other creative and commercial purposes. 
Our laser cutting specialists also often cut fabric for dresses, swimwear, evening wear, sportswear, uniforms, and all other articles of formal and casual clothing which may require detailed perforations, intricate shapes, frills, flounces and other embellishments. Simply put, laser cutting methods allow virtually all fabrics to boast highly precise designs and patterns that may be impossible to produce using traditional fabric processing methods like sewing, stitching, and hand-cutting. 
Why Choose Vector & Raster For Your Next Laser Cutting Project?
Here at Vector & Raster, we're no strangers to laser cutting fabrics for high fashion, multimedia art projects, home decor, and even just for everyday clothing lines. No matter the scale or scope of your project, our specialists at Vector & Raster are sure to possess all the necessary skills, tools, and experience required to bring your designs to life.
If you'd like to inquire about having some fabrics laser cut for your next textiles project, whether creative or commercial, contact us today to have all your questions answered or to receive a free quote on our services.