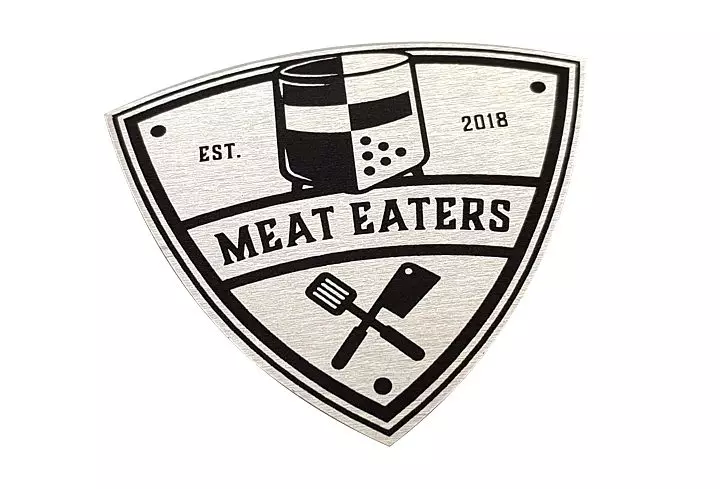 Of all the processes that are carried out in our production studios, laser etching on stainless steel is perhaps one of the most satisfying. Our laser engraving specialists here at Vector & Raster tend to jump at the opportunity to even test their laser marking skills on a range of different metals, from aluminium and brass, to copper and of course, the ever versatile stainless steel. There's something truly mesmerising about marking highly precise, crystal clear designs onto what was otherwise a smooth, uniform surface, just like stainless steel. 
Unlike timber or cardboard, stainless steel and other metals for laser marking or metals for etching, present a highly polished surface with predictable textures, making it perfect for intricate laser etching or marking. Given how exciting it is for us to work on laser marking projects specifically for metals, the project that we'll be outlining today was definitely a crowd favourite here at Vector & Raster, both because of its stunning end product as well as the fact that it's a perfect example of the sheer potential of laser marking on metal surfaces. 
Best materials to use for laser etching and engraving
As we mentioned, there are a selection of great metals to choose from when setting out on a laser etching or marking and engraving project. Some of the materials we work with include:
Aluminium 

Anodised aluminium

Brass

Chrome

Copper

Powder coating

Stainless steel
Selecting the right metals for your laser marking project can be a matter of considering what purpose your laser marked metals will have. For example, because of its oxide layer created through chemical treatments, anodised aluminium is capable of harnessing an electrical charge, making it ideal for producing metal components in switchboards or control panels. 
Laser marked metals can be used for a wide range of applications, including in the production nameplates and nametags, cans or lids for glass jars, parts or accessories for automobiles, bodies or housing for electronic devices, test tags for electronic equipment in commercial and industrial settings, and even in the production of laser engraved signage and other promotional or marketing materials for business owners.
We've also laser engraved metals for an assortment of independent makers and large-scale manufacturers, so our laser etching specialists are well-versed in production standards for specialist applications like producing switchboards or laser marking serial numbers or other symbols onto auto parts. 
Let's get to the point – here's our latest laser etching project
One of our most recent laser etching projects saw our specialists working on a collection of stainless steel badges. Our customer required robust custom badges to promote their line of BBQs, grills, and fire pits. As the branding behind their business is defined by their bold lines and imagery, they were seeking similarly striking promotional materials to help present themselves.
Their custom badges also needed to be super heavy duty, in that they needed to withstand high temperatures to make them safe for use when handling an outdoor BBQ or grill. That's why a 316 grade brushed stainless steel badge design was chosen for this particular laser etching project. 
304 and 316 grades are amongst the most common grades that we use for our stainless steel products as they're readily available, durable, and look great with high-contrast laser markings. These stainless steel grades are also available in three different finishes for the best results with laser etching or marking, these being smooth mill, brushed, and mirror surface finishes. 
Once the material had been selected and prepared, our laser etching specialists did what they do best and prepared the blank badges with a custom jig that was then fitted to our laser marking machine. We then laser marked the client's logo, producing a high contrast black etching on the surface of the metal, designed to be heat-resistant alongside also being resistant to common solvents and other sources of corrosion or abrasion. 
As you can see, the end result is precisely what our customer set out to attain for their brand, boasting strong lines and striking imagery that perfectly represent the business brand. Our laser etching specialists were able to work with the customer's custom imagery and fonts in order to create a highly unique badge design that's sure to leave an impression on their own prospective customers at trade shows and other commercial events. 
Why use Vector & Raster for your next laser etching project?
Our laser etching specialists at Vector & Raster have provided their exceptional services for a wealth of different clients across virtually all industries, including government agencies, automobile and technology manufacturers, promotional or marketing agencies, and even independent manufacturers and retailers. No matter what applications you'd like your laser marked stainless steel to be used for, chances are high that our expert laser engraving and etching specialists will be able to provide all the materials you need, etched to exemplary standards and to match your exact provided stipulations. 
If you'd like to inquire about our laser etching services for stainless steel and other metals, simply get in touch through our website today. Our laser etching specialists will be glad to answer any and all questions you may have, as well as even send you a free, no-obligation quote via email for total transparency.