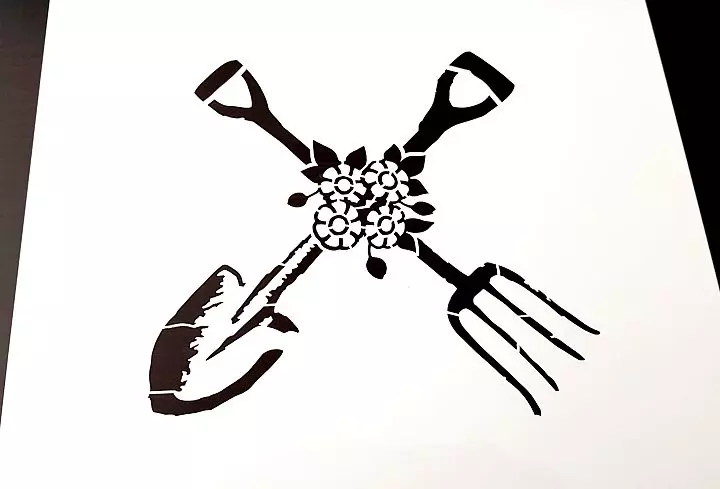 Considering that our senior laser cutting specialists have upwards of twenty years of experience producing high-quality laser cut products, it's pretty rare for a project to come our way that genuinely challenges us here at Vector & Raster. The project that we'll be looking at today did however require some creative thinking , and we genuinely welcomed it for that reason. We strive to accept all the most idealistic and ambitious laser cutting and engraving projects that come our way, and the laser cut stencil project we'll be exploring today is no exception here.
Custom Laser Cut Stencils
Our laser cutting specialists here at Vector & Raster are firmly in agreement that the best custom laser cutting projects are those that'll have them thinking outside the box. We appreciate designs that break the mould, and see us reaching new heights. This is exactly why custom laser cut stencils are amongst some of our favourite products to deliver to our eclectic client base. 
So, without further ado, let's take an in-depth look at one of our recent custom laser cut stencil projects, and explore just how the art of laser cutting really comes alive when producing highly intricate stencil designs that hold their shape for reuse. 
Our Project
This project saw our laser cutting specialists produce laser cut custom stencils designed for the purpose of decorating cylindrical objects with paint. Due to the unique surface that our client was preparing to use our custom stencils on, our laser cutters had to find a way to produce a custom stencil that not only does justice to the intricate detailing of the client's provided design, but will also be strong enough to be reused for future branding. 
We quickly chose the perfect laser cutting materials that would allow our client to produce high-quality stencil art by firmly wrapping our custom stencil around their cylindrical objects. The end product was made with a 'Mylar' plastic material of medium thickness that was able to provide the client's custom stencil with good flexibility alongside being robust.
Whilst we tried to minimise the amount of amendments that were made to the client's original design, some minor simplifications were needed with regards to the source material's finer details. The original design was also much larger than required for this application, so this meant we had to get creative with the way we tabbed the design and the changes we made. The client was pleased with the amendments made to the design for the sake of receiving a custom stencil that would both do their logo justice alongside being able to stand the test of time.
At the end of the day, the client was extremely happy with their final design as well as the quality of their finished product. Their 'Mylar' plastic custom stencils have supported them in creating crisp, painted logos on all of their products and the decor across their commercial spaces.
What Can Custom Laser Cut Stencils Be Used For?
Custom laser cut stencils are a highly popular product amongst many of our corporate clients working in the hospitality and retail sectors. They can be used to personalise anything and everything in commercial spaces, ranging from fixtures like doors and windows to furniture and decor like table caddies. 
We produce custom laser cut stencils for a wide range of clients, including small business owners who are looking to bolster their brand identity in and around their local community, as well as a plethora of independent clients. Our custom laser cut stencils can be used for many different applications including art and face painting, murals and decorative applications, signage and wayfinding, promotional applications and branding, cake decorating, and much more.
What Are The Best Materials For Custom Stencil Production?
Although this particular project was completed by using a 'Mylar' plastic, our custom laser cut stencils are also commonly produced using firm cardboards, stainless steel and aluminium, and a mixture of soft to hard plastics, depending on the malleability requirements voiced by our clients.
On a side note, our laser cutting specialists are also capable of laser cutting fabrics like silk, polyester, leather, and even lycra so that fashion industry professionals are able to use high-quality designs for their fashion goods. Laser cutting fabrics can produce highly intricate geometric patterns and designs that may not be as easy to produce by hand. As a result, a growing number of modern Australian and international fashion designers are embracing laser cutting technologies in their own designs. 
Why Work With Vector & Raster For Custom Stencil Production?
Our laser cutting specialists here at Vector & Raster have had an abundance of experience producing custom stencils for a wide assortment of both independent and corporate clients. On any given day, our studio space is filled with a great number of laser cutting materials, all of which require a certain level of expertise to deliver the best possible finished products. If  you're after high-quality custom laser cut stencils that will be sure to stand the test of time, you should absolutely get in touch with our team at Vector & Raster to inquire about our top tier laser cutting services. 
Want a free quote on your next laser cutting or engraving project? Simply fill out our online inquiry form to receive a free no-obligation quote sent straight to your inbox.