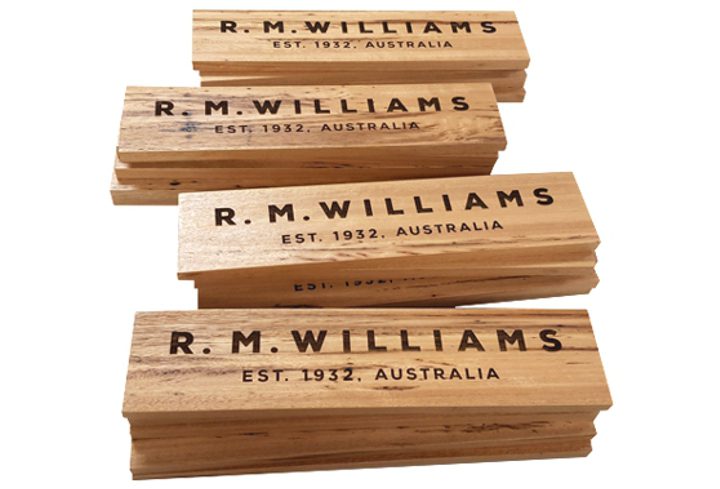 Laser Engraving Wood – Automation and Rustic Charm
Why is it that we love laser engraving wood so much? Despite so many materials being used for promotion and advertising, engraved wood is something that we always come back to. Wood has character, and provides an almost rustic charm to any piece that is appealing in practically any context.
From breweries to office buildings to cafes, we at Vector & Raster have worked on hundreds of vastly different projects that involve laser engraving wood. This has made it one of our specialities, providing us with the skills and experience needed to ensure a fantastic finished product each and every time. With that in mind, let's strip back the veneer and look at the benefits and uses of laser engraving wood!
The Benefits of Laser Engraving Wood
Aside from being a sturdy, durable material, wood is fantastically easy to work with. This allows for smooth lines and intricate details without the fragility of paper or cardboard. However, that's not to say that it's entirely impervious to burning or singeing (which isn't likely to come as a surprise given wood's other uses). Therefore, it's still important to make sure that you're working with a trained laser engraving company that has experience with engraving wood. There's also a considerable amount of versatility when it comes to the type of wood used. Some of the more popular woods that we work with include maple, alder, oak, cherry, walnut, pine, birch, bamboo, jarrah and more.
Common Uses For Laser Engraved Wood
Regardless of where you spend most of your time, it's likely that you've seen a lot more instances of laser engraving wood than you think. From the signage in cafes and restaurants to the labels on artisanally-crafted products, engraved wood is absolutely everywhere.
Other uses include:
Name tags
Marketing products
Ornaments
Displays
Personalised coasters
POS displays
Much, much more
For a perfect example of effective laser engraving in wood, we have these beautiful panels created for R.M. Williams.
The Project
R.M. Williams has always been a brand that prides itself on its quality and Australian heritage, with the company first opening its doors in 1932. This, coupled with a brand image that evokes rural, handmade charm and dedication to durability, makes wood a perfect fit for their in-store signage. These panels were produced as part of the brand's retail displays and therefore needed to be very eye-catching, despite their relative simplicity. This was achieved by laser engraving bold lettering on each side of the 19mm wood veneer panels, creating a stark contrast between the light wood and dark letters.
When it comes to a job like this, clean lines are absolutely vital. Laser engraving is an absolutely perfect choice for this, as it allows for an unmatched amount of control and specificity in every cut. Plus, given that the process is semi-automated, it provides the chance to easily create identical cuts across a large number of products, making for easy duplication.
~
At Vector & Raster, we have a considerable amount of experience providing laser wood engraving services across a wide number of utilities and materials. To learn more about how we can assist in your next project, visit our laser engraving page, or contact Vector & Raster today.