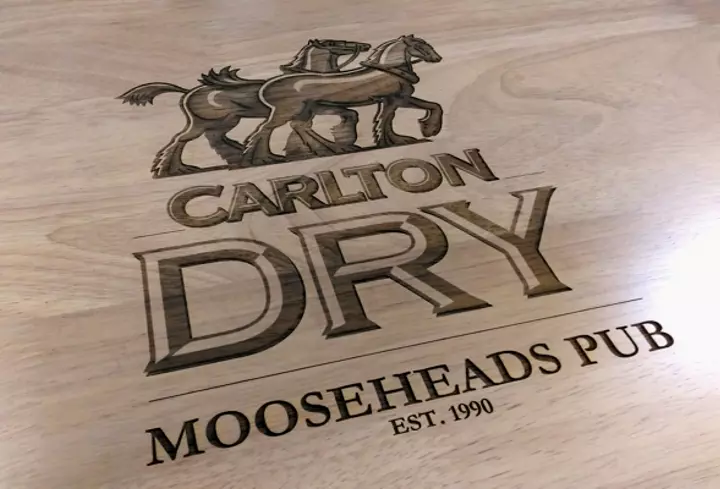 If you're a fan of going out to the pub with friends, it's very likely that you've seen a laser engraved wooden tabletop without even realising it. Laser engraving is all about creating uniquely eye-catching pieces, and that doesn't stop with the ornamental. For any bar, restaurant or cafe that's looking to really stand out to their customers, a laser engraved wooden tabletop is a fantastic way to keep your brand front and centre while they enjoy some delicious food and/or beverages.
At Vector & Raster, we have had the pleasure of working on thousands of laser engraving jobs across Australia. So, to help you decide on your next project, let's take a deeper look into the process and perks of our laser engraved wooden tabletops!
Made For the Moosehead
While we may have said earlier that laser engraved tables are a fantastic way to get YOUR brand in front of punters and patrons, sometimes, you just want to point them in the direction of a delicious option. Take this laser engraved wooden tabletop, which was created for the Moosehead Pub in Canberra, and boasts the Carlton Superdry logo to accompany the pub's name.
Materials
Given that a tabletop at a pub is likely going to go through some wear and tear, these were created using rubberwood. As a furniture material, rubberwood is durable, resilient, low maintenance, and quite stain-resistant, making it a perfectly comfortable, sturdy choice.
As this job required several different laser engravings to take place, there were tops of various sizes and shapes, with some measuring up to 1800mm. Each of the larger tops also showcased two engraved logos, ensuring that a Carlton Superdry logo was never too far out of sight for enthusiastic punters.
The Design
Each engraving included solid engraving and greyscale engraving. This ensured a high level of dimension and contrast for each piece, which allowed us to really make them pop! Although a high level of specificity is involved in the process of laser engraving, it's important that each etching fits its surroundings. In the end, the tops really complimented the decor of the pub, including the hardwood flooring that makes up the entirety of the pub's floor space.
Why Go to Vector & Raster For Laser Engraved Wooden Tabletops?
At Vector & Raster, we have had the chance to work with businesses across Australia in creating thousands of stunning laser engraving pieces. Because of this, you'd be hard pressed to find another laser cutting team with more experience, a higher level of dedication, or a more impressive track record.
If you're looking to include laser engraving in your next project, contact the experts at Vector & Raster today!