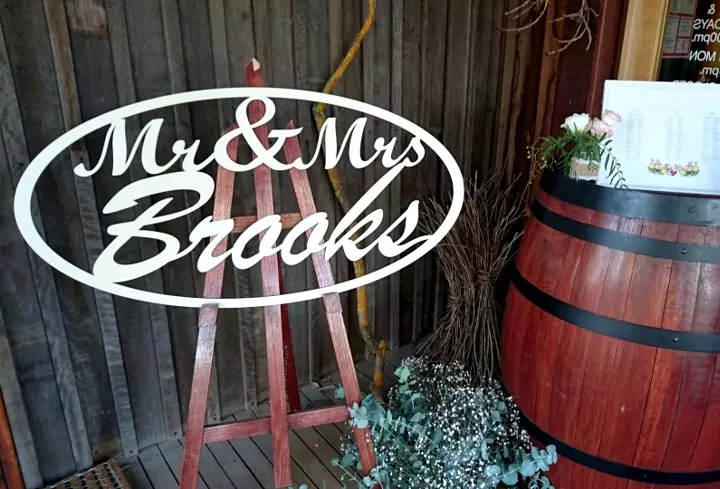 Recently Vector & Raster Laser Services had the pleasure of producing a sign laser cut from plywood that would be presented to a couple on their wedding day.
The Story
The bride and groom to be, we'll refer to them as Mr and Mrs Brooks from here on in, had their wedding ceremony in Nagambie, a lovely town in central Victoria known for its wine, wetlands and outdoor activities. One of the groomsmen, a long time friend of Mr Brooks, came to us looking to commission a sign that would commemorate one of the most special days in the couple's lives and would also tie in with the theme of the ceremony.
Our experienced laser cutting professionals got straight onto the job and created the laser cutting file, which was quickly approved by the client. We used a large piece of 6mm plywood to create the 1.2m sign, as you can see from the pictures, it turned out rather nicely! A week later, we heard back from the groomsman who informed us that the guests, and most importantly the bride and groom, absolutely loved the sign. It became a big talking point later on at the reception too. Here at Vector & Raster, we're just happy to have played a small part in the couple's special day.
Laser Cutting More than Just Signage
At Vector & Raster Laser Services, we can laser cut almost any material to serve a multitude of different purposes. For example, in addition to signage we can laser cut different types of wood materials to create everything from decorations and ornaments to architectural models, displays and much more. Some of the most common thicknesses we stock and use on a regular basis include 3mm, 6mm and 9mm. Other thicknesses and types of wood are only a phone call away from our local suppliers.
We can also laser mark metal and laser cut acrylic in order to produce a variety of different items, some valued for their visual appeal while others are favoured for their functionality. For more decorative purposes, we can also laser cut paper and card to create and reproduce almost any design.
If you'd like to take advantage of our laser cutting expertise for your next special event, whether it's a wedding reception, milestone birthday or even a business seminar, get in touch with Vector & Raster Laser Services today.