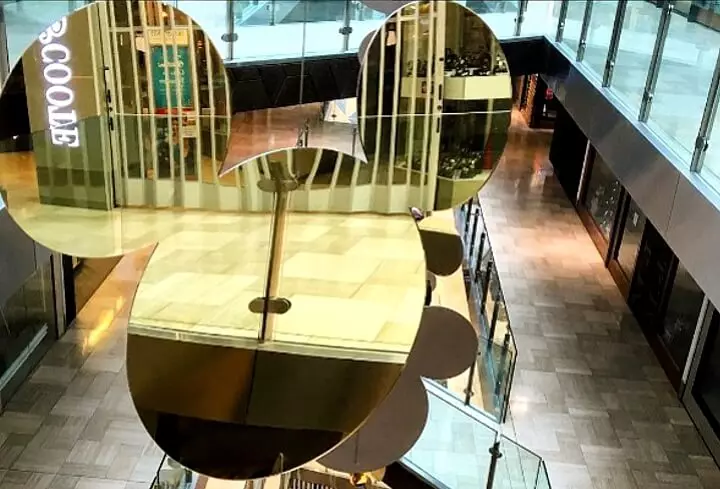 As you wander through the shops in the many shopping precincts and malls this Christmas season, take note of the plastic displays and point of sale (POS) holders you'll see everywhere. It's likely that most are made from acrylic – a popular choice for these kinds of items due to the material's durability, its ability to be shaped and molded when heated, and how easily it can be cut with laser technology. Vector & Raster Laser Services specialises in laser cutting acrylic for a multitude of different purposes. Renowned for delivering flame polished edges and pinpoint precision, our laser cutting services are used to produce signs, POS displays, visual merchandising tools, and much more.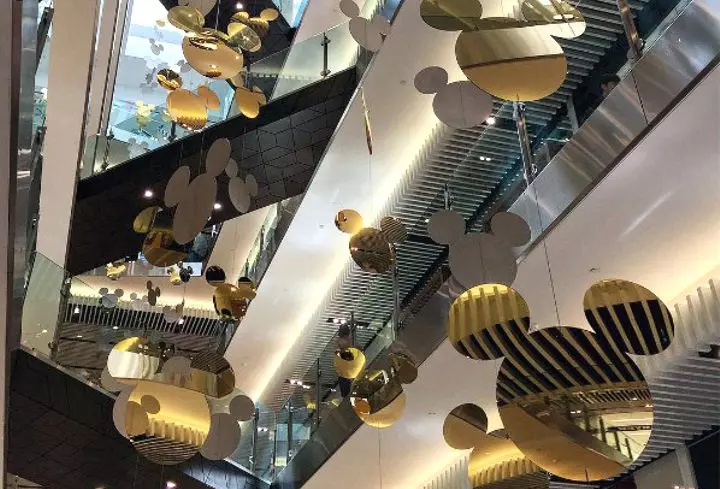 Getting Tricky with Mickey
Speaking of the Christmas season, we were thrilled this year to be commissioned to laser cut a series of Mickey Mouse ornaments for an installation at Emporium Melbourne – a shopping complex in Melbourne's CBD. Fashioned out of gold mirrored acrylic, the decorations were part of an exciting collaboration between the Walt Disney Company and Emporium Melbourne for a Christmas display with a Mickey Mouse theme. As fans of the famous mouse ourselves, we couldn't have been more excited to be involved!Despite our tight deadline, we worked up and down the clock (pardon the mouse pun!) to get the job done to the highest possible standard. We even hand delivered them ourselves to the client's Richmond warehouse to ensure they got them on time and in perfect condition.Naturally, we had to head out to the installation and see it for ourselves! We must commend their riggers for doing a magnificent job installing the hundreds of decorations, suspending them from the top floor extending elegantly down past each level, leading down to the final Mickey Mouse decorations just above the bottom floor. Although they look great in the photos, there's nothing quite like seeing them in person. It was lovely observing the way they gently rotated, reflecting the lighting, store fronts and thousands of happy shoppers stopping to admire the decorations in front of them. The best part of any job is seeing people enjoy what you have created.

Discover How We Can Help You
Using the finest laser technology, Vector & Raster Laser Services can cut and engrave many similar products and signs for businesses Australia wide using acrylic in a range of thicknesses and colours. If we don't have what you need in stock, we can easily order it in. In addition to the elegant gold mirror acrylic that we cut these decorations out of, we also stock a range of other mirrored acrylic colours, including purple, yellow, green, blue, red, orange, silver and more. Merry Christmas and a safe holiday season to you all!