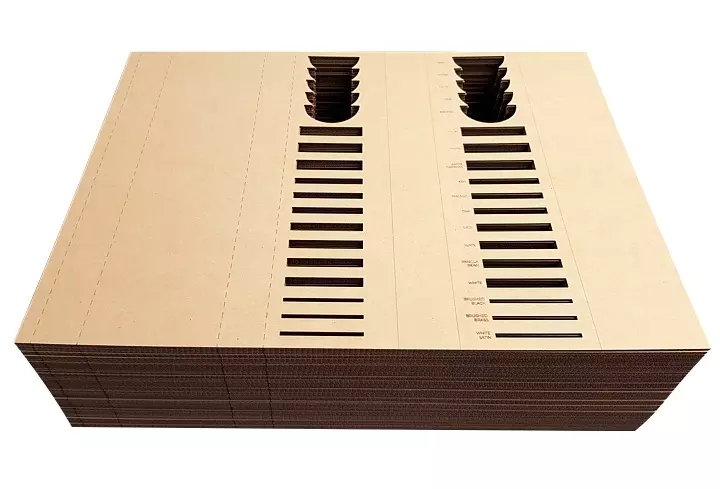 I sometimes feel like cardboard doesn't quite get the props it deserves. Whilst there are certainly more sturdy materials out there, and ones that are more likely to stand the test of time, laser-cut cardboard can be used to create some truly exceptional things. Not only that, but this recyclable resource also makes up so many things we interact with in our everyday lives. From marketing to manufacturing to art to padding to crafts and dozens of other uses, cardboard has more than earned its place as one of the kingpins of the material world.
At Vector & Raster, we have been working with laser cut cardboard and laser-cut paper for over two decades, making us one of the most experienced laser cutting services in the country. So, it's time to start thinking inside the box and take a look at the potential, possibilities and power of laser-cut cardboard.
Why is Cardboard So Common?
Whether you're referring to its packing potential or its use in products, cardboard is sort of the perfect material. Spongy enough to absorb a lot of shock whilst boxes are in transport, durable enough to avoid tears and lightweight enough to avoid adding excess bulk to plane, truck and boat travel, cardboard is an absolutely incredible resource that we don't necessarily think about due to its ubiquity.
In our experience, one of the main requests we receive for laser cut cardboard is in the form of customised cardboard inserts that require a highly specified sizing with their holes and indents to protect the products within. This makes sense, as laser cutting offers unrivalled consistency and speed when it comes to making a large batch of identical pieces.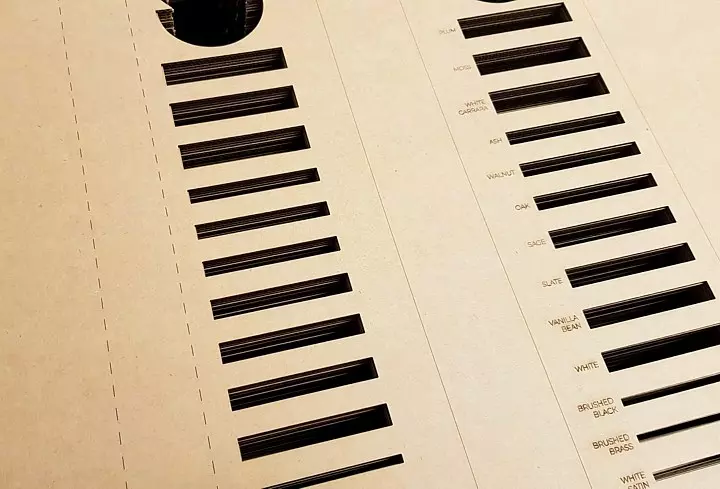 A Laser-Cut Cardboard Creation
Not only did the laser cut cardboard piece above require cutouts that were to very specific dimensions, but the design also necessitated small text to be etched into each one describing the various products that would be placed within. Each of these laser-cut, scored, and perforated cardboard inserts with laser etched text had to be absolutely identical to maintain quality and consistency, meaning that we had to use a variety of laser methods in tandem to make sure they came out just right.
These were manufactured for an Australian design studio based in Sydney, Australia, meaning that aesthetics were a very important element in the finished product; our customers have a standard of quality to uphold, and it's our job to ensure that their laser-cut pieces exceed those high expectations. So, finding a balance between lightweight flexibility and sturdiness, the stock used was a brown 1.5mm corrugated cardboard, which is also available in 3mm and 4mm thicknesses.
Outside of the use described above, laser-cut cardboard is an absolutely fantastic material for sample boards, packaging inserts, product packaging, cost-effective models, and more. So, no matter what your intended usage is, we're almost certain that we'll have a cardboard option to suit your needs. Alternatively, we also stock a wide array of other materials that you can choose from, such as a variety of woods, metals, plastics, and laser-cut paper options, to name a few.
Work With Vector & Raster on Your Next Project
Are you ready to take on your next project? Want to see what else Vector & Raster can do? Contact one of our laser cutting specialists today to begin work on your next project. Alternatively, if you're just starting to delve into the world of laser cutting, explore our blog for more news, information and examples of our previous projects to find out everything that you've ever wanted to know about the laser cutting industry.