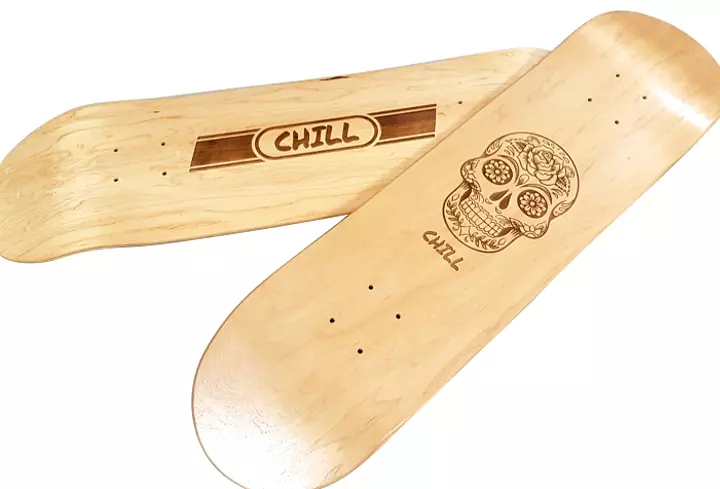 No matter how you decide to look at it, style is an enormous part of skate culture, just as skate culture has become a ubiquitous part of the style world. From the XXXL t-shirts and chunky shoes of the 90s to the mutually-inspired relationship between streetwear and skate fashion that has thrived throughout the 21st century, skate style is absolutely iconic, and there is no better testament to that than the skateboard itself.
With designs ranging from eye-catching to eye-hurting, skateboard art is almost as beloved as skating itself and has been the inspiration for many designers and artists both in and outside the skating world. The internet is filled with lists of the most iconic decks from some of the world's most revered skaters, and as skateboarders have looked for more ways to stand out in such a varied field, skateboard laser engraving has become more and more widespread.
At Vector & Raster, we are experienced in providing premium-quality engraving and laser cutting services across a wide array of industries, styles, utilities and art forms. So, get your sneakers on and dust off that copy of Tony Hawk Pro Skater 3, because we're taking a look at the wonderful world of skateboard laser engraving.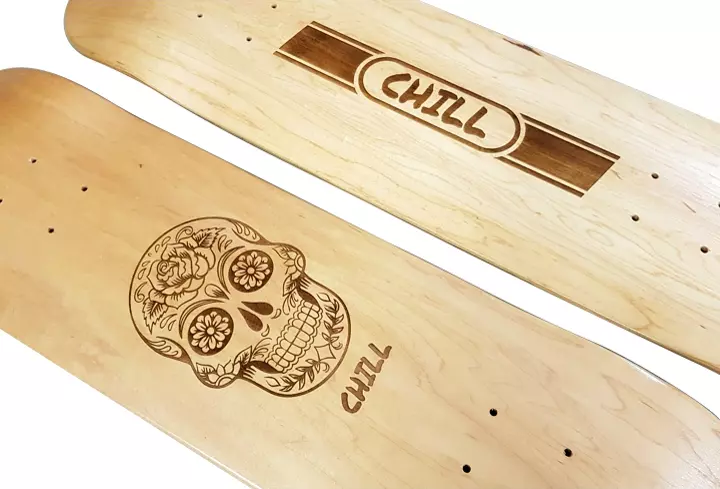 Skateboard Art: How Did We Get Here?
As iconic as it may be now, skateboard art wasn't always considered to be of particular note, even to those in the skating world. In many cases, the only real audience for these loud, esoteric designs was, unfortunately, the pavement they rode upon. This started to shift as the skateboarding paradigm began to change in the 1980s. Whilst skating had been popular in the US as early as the late 1950s, the 80s saw a number of skateboarding brands owned and run by actual skateboarders, which in turn started to slowly reshape the image of skating, specifically street skating, as a subculture.
One of the most interesting works on the topic of skateboard art is the impressive 228-page book Disposable: The History of Skateboard Art. Released in 2004, the book's creator, skateboarder Sean Cliver, aimed to immortalise and showcase some of the best deck designs the world had to offer. It's also impossible to talk about the rising interest in skateboard art without referencing the Tony Hawk's Pro Skater series which both introduced skate culture to an entire generation of gamers and solidified skateboarding's association with the punk and hardcore scene through its soundtrack and design.
With all of this in mind, it's no wonder that skateboard laser engraving has become as popular as it has. Laser cutting and engraving allow for hugely intricate designs that aren't feasible by other cutting methods, meaning that skateboard laser engraving opens up a whole new world for those that want to stand out with their board designs.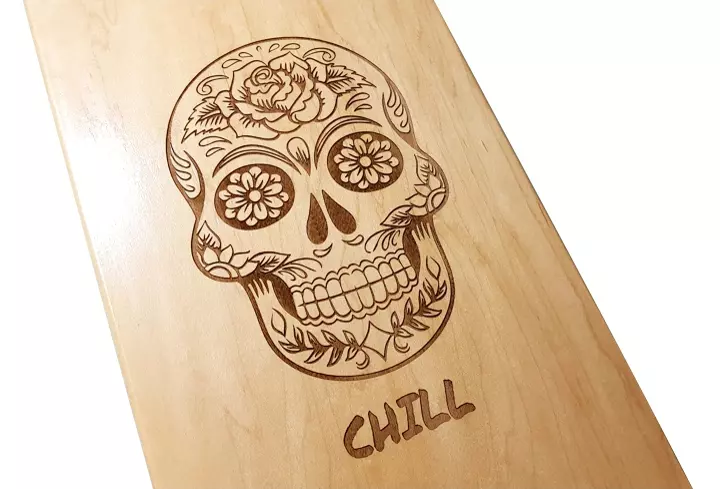 Our Work
For this particular project that we've been using imagery from for this article, we were approached by a local Melbourne skate company who was looking for a laser engraving business to help them create a small production run of some cool deck designs. With experience working on skateboard laser engraving jobs in the past, we of course knew we were up to the challenge of providing them with practically any style they wanted.
The "chill" design that they ended up requesting was a simple enough job on its own, but the setup did present a few challenges. This is due to the fact that we needed each board to be perfectly executed and replicated with identical designs, which can be difficult, especially when working with wood that isn't traditionally shaped, as is the case for skateboards.
This is where experience, software and state-of-the-art machinery come into play. As you can see, the final product was perfect, and we were as thrilled as the client was with the results. Jobs like this can act as a fantastic reminder of how versatile the laser engraving process is, both in and outside the world of art.
~
The ways that you can stand out with your skateboard art are practically limitless, and there are always going to be people trying new styles for as long as there are skateboarders to ride them. So, if you have a design that you've been dreaming of turning from a vision to reality, contact Vector & Raster today. With close to two decades of experience providing high-quality laser engraving and laser cutting services, you can feel safe in the knowledge that you're working with the professionals.