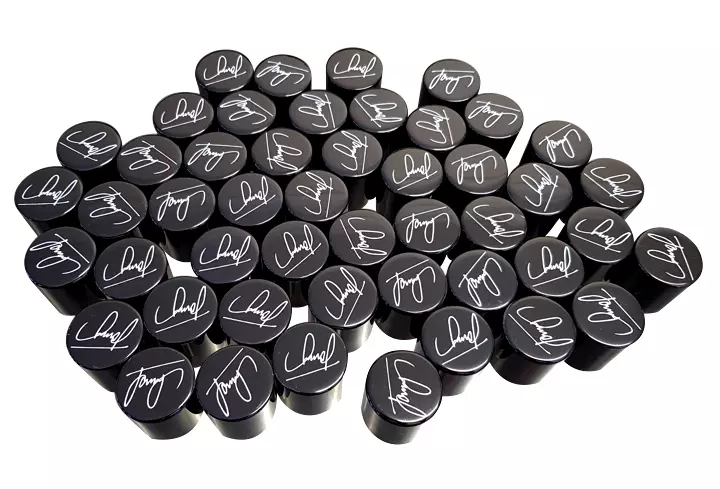 The signature has been associated with quality & class for longer than we could ever hope to guess. As society has moved from the artisanal crafts through the industrial revolution and into the age of automation, the signature on a product has retained its power as a signifier that a product is special, unique, and to be held in high regard compared to its contemporaries. Whether it's on fine china or an aged whiskey, someone putting their name on their work in this way is a sign that they are proud of what they've created, and are ready to show it. 
Because of this, we have gotten innumerable requests for laser-etched signature pieces over the past two decades. And, not to brag, but we at Vector & Raster have gotten pretty good at it along the way. So, to ensure that you're confident in the make of your moniker, let's delve into the intricate art of the laser-etched signature.
The Struggle With Signatures
Whilst, as discussed above, the laser-etched signature is a mainstay across all kinds of manufacturing and products, the job that inspired us today was a production run of anodised caps. These caps, each one adorned with a custom laser-etched signature, turned out absolutely stunning, which is easier said than done. For those new to laser engraving, signatures pose a specific issue, and that is the need for a seamlessly natural flow. 
Signatures aren't the calculated, clean shapes of traditional text, and to make them look good, you have to be able to replicate the level of loose, unique detail encapsulated within each person's penmanship, which some of the cheap machines on the market struggle with. As one of Australia's leading laser etching providers, we will have no trouble bringing your John Hancock to the etching medium, but always make sure that you see previous examples before paying for a laser-etched signature or any other custom laser etched job. 
What Can You Add a Laser-Etched Signature To?
Short Answer: Pretty much anything.
For a more robust response, however, there is a wealth of parts and products that can be customised to include your laser-etched signature. We regularly laser etch and engrave existing parts, creating beautifully customised, unique finished products. Quite frankly, why blend in when you can stand out with style? We have the knowledge, equipment, and experience to make any and all of your laser etching ideas a reality.
Common materials used in the custom etching process include stainless steel, anodised aluminium, copper, brass, wood, acrylic, granite, marble and many more. We can also perform custom etching on products that have already been manufactured for an extra flair, thereby making laser etching a fantastic choice regardless of where you are in your production process.
Over the past two decades, we have had the pleasure of offering laser cutting and etching services to some of Australia's most trusted brands aacross the worlds of fashion, vehicles, manufacturing, design, art, industrial development, and many more. So, with a proven track record of fantastic results and a varied portfolio spanning national businesses and beyond, you're unlikely to come across a laser cutter more suited to your cutting or etching needs. To learn more, get a free quote, or contact one of our laser cutting specialists today to discuss your next project.