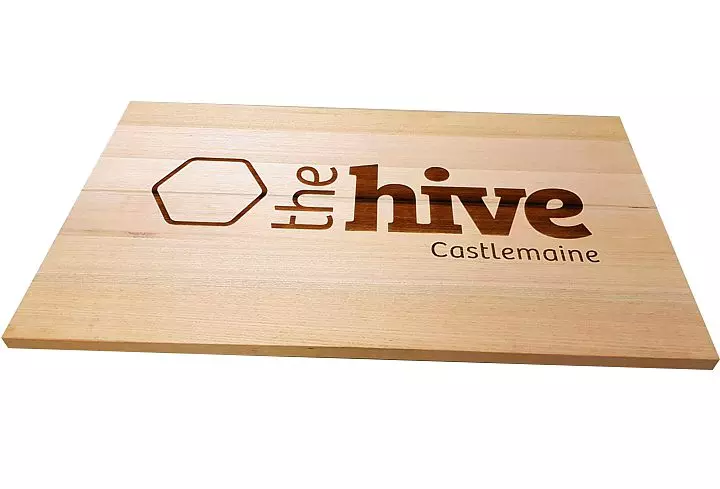 The timelessness of timber and laser engraved wooden signs is something we've explored a great deal here at Vector & Raster. Wood and composite wood materials are certainly up there with some of the most satisfying laser engraving materials that we work with, and for a number of reasons too. For starters, the majority of our laser engraving specialists believe that wood materials single-handedly provide the ultimate finish, and with minimal processing requirements as well. 
The two-tone 'burnt' finish that is generated by the laser engraving process, provides laser engraved wooden signs with naturally high-contrast and highly legible designs. This means that your company logo and other branding can be read clearly both up close and from a distance away, depending on the size of your wooden signs and provided designs. 
On top of this, laser engraving locally sourced wood materials for your business signage is always guaranteed to be more sustainable than producing plastic signs. Businesses that want to present themselves as eco-conscious will find that a laser engraved wooden sign can be the perfect way to present themselves to prospective patrons.
Even companies who want their branding to feel more 'salt of the earth' rather than faceless and 'corporate', can find plenty to love in getting their own laser engraved wooden signs to display on their storefront. 
This brings us to our latest wood laser engraving project, which saw our team of engravers produce a high-quality wooden sign for a client that values sustainability. Before we jump into that though, let's go back to basics and highlight the benefits of working with wood for laser engraving.
What laser engraved wooden signs are used for?
Laser engraved wood can be used for a wide variety of purposes, including signage, furniture, and even for the production of musical instruments, wooden models and other consumer goods that require technical and precise production practices. At Vector & Raster, we can supply solid wood in large slabs for signs, table tops, stool tops and more, as well as have solid wood products manufactured for serving boards and chopping boards, clocks, and many other customised wood products.
And just because we like to think outside the box here at Vector & Raster, we also stock solid wood sheets that are 5 mm thick for the production of smaller laser engraved signage. These smaller wood sheets can also be used to create other products like name badges, display labels, awards, seasonal or holiday ornaments, and virtually any other wooden craft projects that you can think of.
Best wood materials to use for laser engraving
Natural solid wood is simply stunning. Each and every piece is slightly different and unique and exhibits different characteristics, colours, grains and other natural features. With that, selecting the types of wood that you'd like to use for your laser engraving project can be a matter of personal choice, or it can be a question of practicality.
In other words, some timber materials are better suited for particular laser engraved wooden signs than others, whether it be because of that material's unique qualities, or even just a matter of cost. For instance, medium-density fibreboard (or MDF) is a fantastic wood composite material that's commonly used in the production of wooden model kits. If you've ever built a wooden model whose laser cut pieces had to be snapped out of their wooden moulds, then that wood material you worked with was most certainly MDF.
But softer or composite wood materials aren't suitable for every kind of project. You wouldn't want to build a dining room table out of MDF, for example. In these instances, working with harder wood materials like maple, mahogany, walnut, or acacia is more likely to yield better results.
As we've mentioned, we work with a wide range of different hardwood, softwood, and wood composite materials to produce all of our striking laser engraved wooden signs. From bamboo to birch, you truly can have your pick when it comes to selecting timber materials for your laser engraving wood project.
Our latest laser engraved wooden signs and projects
Now let's take a closer look at our latest wood laser engraving project. This particular project saw our team of engraving specialists produce a thick wooden sign to be on the exterior of their business premises so that it would be visible from street view. Upon providing their digital designs, the client also requested that they were after a large wooden sign that was on the thicker or chunkier side. We contacted our local wood suppliers to see what wood materials would be best suited to fit these stipulations.
The beautiful piece of timber we ended up selecting was a 32 mm thick Tasmanian Oak. Measuring in at 1200 x 700 mm, this piece of wood was perfectly sized for the job. The fact that it was locally sourced also complemented the client's eco-friendly ethos.
Once we'd received approval for using the Tasmanian Oak slab, our laser engraving specialists went right to work on processing the client's logo onto the surface of the wood. The client later finished the sign by sealing it, to ensure it was weatherproof, as the client intended to install the wooden sign outdoors.
The end results of this project really do speak for themselves. The client's dynamic and nature-inspired geometric design pairs perfectly well with the organic warm tones of the Tasmanian Oak. We were simply proud to have been able to produce this lasting symbol of their company and its ethos – the fact that this symbol also happened to be their business signage was an added bonus!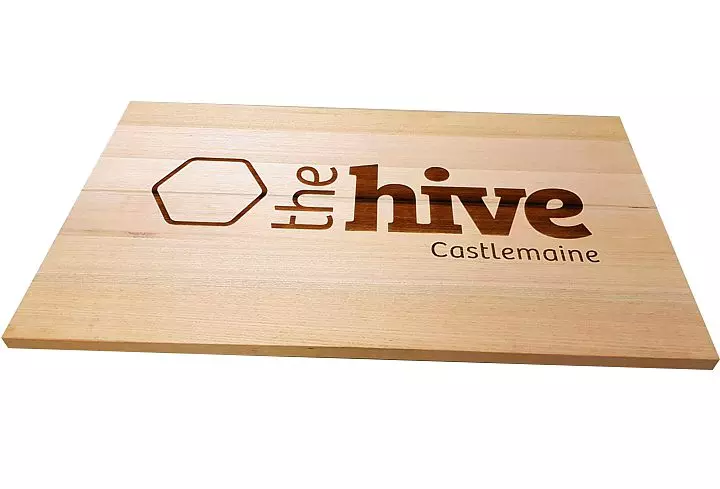 Why work with Vector & Raster on your next laser engraved wooden signs project?
Simply put, we're crazy about working with wood here at Vector & Raster. We've been working with wood for laser cutting, engraving, and etching projects for over twenty years, so we know just how to make your designs truly pop on each and every unique wooden panel or sheet that comes our way.
We'll work with you to make sure that your digital designs can spring to life on your desired wood material, factoring in elements like the thickness, weight, grain, and colouring of your wood to produce the most optimal results for your final laser engraved product.
If you'd like to see your next laser engraved wooden signs to be completed to unwaveringly high standards, then reach out to our Vector & Raster Laser team to get a quote on your next project today.