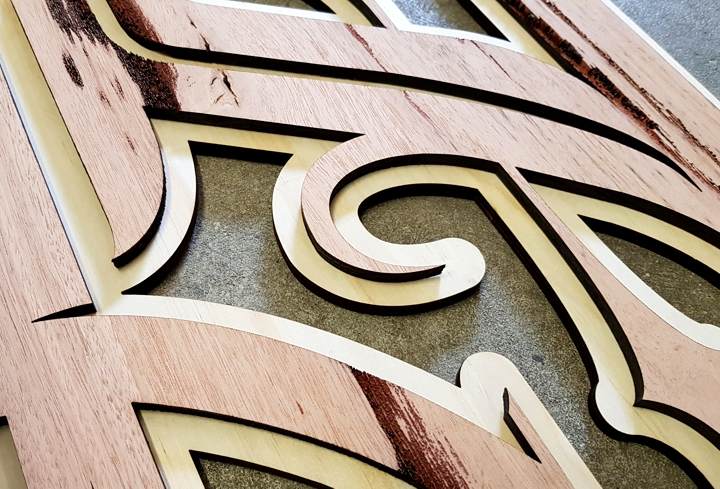 Laser Cut Wood Signs – A Guide to Bamboo, Birch, Branding & Beyond!
Laser-cut wood signs are everywhere. From storefront signage to decorative fixtures  laser cut wood signs are so ubiquitous that it can be easy to forget the skill and detail that goes into making them pop. At Vector & Raster, we have been providing businesses, functions, events, stores, homes and designers with the ability to bring their wooden dreams to life with an expansive range of laser cutting, etching & engraving services. So, to find out what you can do to go against the grain & ditch those woods, clouds & shoulds, let's delve into the wide world of laser cut wood creations!
First Off, Why Wood?
If you're asked to conjure an image of a laser-cut wood sign in your head, you're likely to have a different picture than the person next to you. This is because, whilst wood is often associated with a rustic aesthetic, recent years & a boom in the popularity of artisanal crafts have meant that wooden signage can be seen everywhere. However, just saying they're everywhere doesn't explain why they're everywhere.
To avoid just saying it's because they look pretty, let's take a look at a few of the reasons that laser cut wood signs are so popular:
The Art of Association
The way that we think about wooden products is often a byproduct of our associations with trees. Trees are seen as emblematic of nature, sturdiness, power and, most importantly, timelessness. A wooden business sign, as with a wooden fitout in general, gives the impression that your business has been around for a long time, and that it will be around for a long time to come.
To be slightly less flowery, there's also just something warm and relaxing about being surrounded by wood and natural materials. Unlike the traditional modernist take on interior design and branding, a wooden sign really feels like a human being had a hand in crafting it, and that's a feeling many people are drawn to.
The Virtues of Versatility
Wooden signage feels like it could be anywhere, and that's a major strength. Dull, featureless storefronts can feel very uninviting, as can spaces that feel like they weren't made with you as a human being in mind. Through the strength of our previous point, that association with homely, warm feelings means that wooden signs can be a welcome presence practically anywhere. Whether you're a small, family-run cafe trying to welcome in fresh faces or a large corporate office trying to make your employees feel less stifled, wood is practically always a welcome addition.
So, now that we've gone through some of the benefits, let's take a look at some of the options you have when crafting your masterpiece.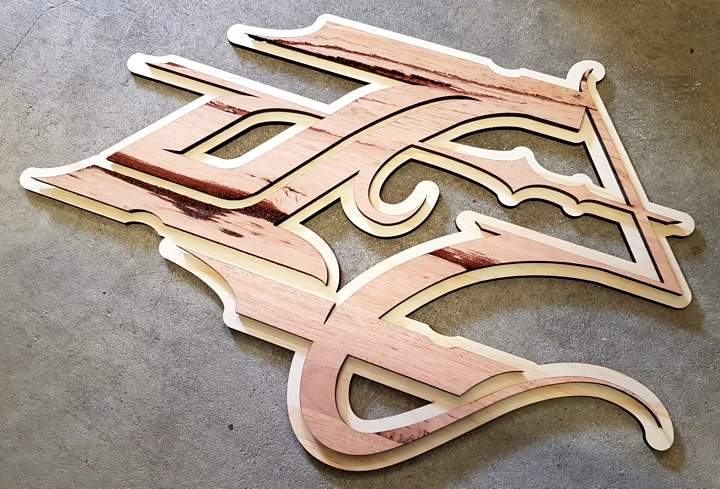 The Matter of Materials
When it comes to working with wood, the number of available materials is staggering. With that said, depending on how complex your design is, there will be some wood options that are easier to work with than others which will, in turn, provide a higher level of versatility for your finished product.
Laser-cut wood signs are commonly cut from Bamboo, Hoop Pine, Poplar, Birch, Jarrah and other types of plywood. These woods provide the right level of malleability to create intricate, complex designs whilst still offering the durability needed to ensure these creations stay vibrant and sturdy for the foreseeable future. Veneered MDF and Plywood can also be used for specific finishes required. These come in a range of different wood species and thicknesses, though the most common thicknesses are 3mm, 6mm, 9mm, and 12mm.
What Other Options Are Available?
Quite often, we will have customers coming in and requesting batch orders of smaller signs for various functions and products. For these smaller signs, up to 600 x 300mm, we can also use 5mm solid wood. The most common materials used for these smaller signs are Oak, Alder, Cherry, Walnut & Maple.
Another option for getting your ideas onto wood is laser-engraved signage. The finer spot size when working on materials allows for far more surface detail. For engraving, we can work with thicknesses between 19mm-50mm to ensure the structural integrity of the piece once it has been detailed. At the request of the customer, we can also add decorative edges to make the piece feel more cohesive. This tends to end up being a pencil edge or an ogee edge, but a plain straight-cut edge is also available for those that prefer a more simple design.
Materials-wise, laser engraving tends to work great with Spotted Gum, Messmate, Victorian Ash, Jarrah, Maple, Oak, Iron Bark & Blackbutt; however, other options are available upon request. Their durability and aesthetically-pleasing textures also make these materials the perfect choices for kitchen essentials like cheeses boards, chopping/cutting boards, charcuterie boards, and a range of other unique items.
Why Work With Vector & Raster For Your Laser Cut Wood Sign?
At Vector & Raster, we have been working with wood for the better part of two decades, creating thousands of beautiful products in a range of styles and using a multitude of different wood varieties. So, whether you're looking for a one-off feature piece or a batch order of hundreds, we have both the skills and state-of-the-art technology to bring your vision to life. To learn more, contact Vector & Raster today!