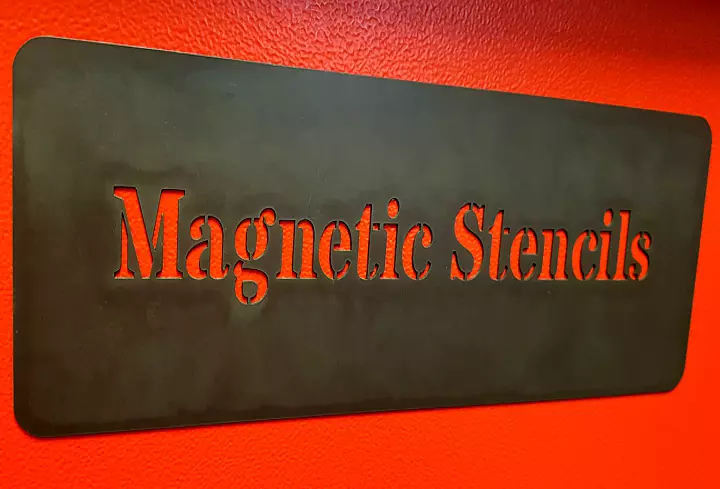 One of the most fantastic things that come with writing about laser cutting month after month is just being able to take a step back and properly see how many industries and utilities it appears in.
From the bold statements of laser-cut fashion design to the more utility-based functions of laser-cut acrylic tags for industrial use, laser cutting methodologies can be seen across almost every facet of the business landscape. With that said, no matter how much we talk about and discuss here on this blog, there will always be more to paw through as we get to work on more and more interesting, unexpected projects.
So, what has brought us to talk about laser-cut magnetic stencils? And what makes laser-cut magnetic stencils such a valuable tool for businesses? Well, after 20+ years of creating laser cut stencils, along with a practically innumerable number of other laser cutting, etching and engraving projects for businesses across Australia, we at Vector & Raster feel that we have some wisdom to share on the subject. So, let's get into it.
What Are Laser Cut Magnetic Stencils?
Whilst the name will give most people an indication of what they are looking at, being that they are magnetised stencils that have been laser cut to suit the requirements of the commissioning business, they offer a number of benefits that may not be as immediately obvious. For example, depending on the needs of the client, these magnetic stencils can be made bendable and posable, allowing them to wrap around cylindrical or uneven surfaces. An example of this can be seen in the header image of this piece.
The Benefits of Laser Cut Magnetic Stencils
These stencils, laser-cut from a 0.9mm magnetic sheet, are perfect for a number of utilities, from skips and bins to signage, barrels, tanks and a variety of other metal objects. Single-piece stencils can also be cut to a size of up to 1240 x 610mm, making them perfect for larger jobs that require designs to be visible across a large surface area.
With all that being said, the main drawcards of these stencils being made with this material are their flexibility and ability to create large, visible text, logos and shapes. Whilst they may not be as suitable for highly detailed logos or smaller designs, their versatility in these other areas makes them more than worthwhile for most stencil jobs. Plus, given that they're magnetic and reusable, they eliminate the need for taping and spray adhesives, which is vitally important when marking large quantities of items.
What Industries Are Most Likely to Benefit From Laser Cut Magnetic Stencils?
There is a variety of uses for laser cut magnetic stencils across a wide range of fields, with us completing projects for artists and shipping companies alike. With that said, most businesses that require large magnetic stencils are industrial, requiring large, consistent signage and symbols as a means of providing practical information in a large, visible way.
As we mentioned earlier, waste disposal and shipping are huge industries for this sort of work, with shipping containers and skips requiring large identifying symbols for transport and categorisation. With that said, we're always looking for new projects and new ways to use the skills we have developed, so if you have a project that doesn't match what we've described above, speak with our specialists and we will find the best solution for your needs.
Why Work With Vector & Raster?
Laser cutting is a cutting method known for its intricacy and precision. So, if you have a job that requires a high level of detail and absolute perfection across each part, there are few methods that can come close. With that said, not all laser cutting is created equal, and it's important to go with a company that you can trust when planning out your designs. That's where Vector & Raster comes in.
With over two decades of experience in laser cutting across a wide array of styles, utilities, functions, materials and specifications, Vector & Raster is passionate about providing you with the best of the best when it comes to bringing your vision to life. We have state-of-the-art technology, systems to significantly reduce any environmental impact the laser cutting process may have, and a wealth of specialist knowledge that can only come from an extended time in the industry. So, if you're getting ready for your next big job, get a quote today, or explore our blog for more information, laser cutting news, and updates on our favourite projects.