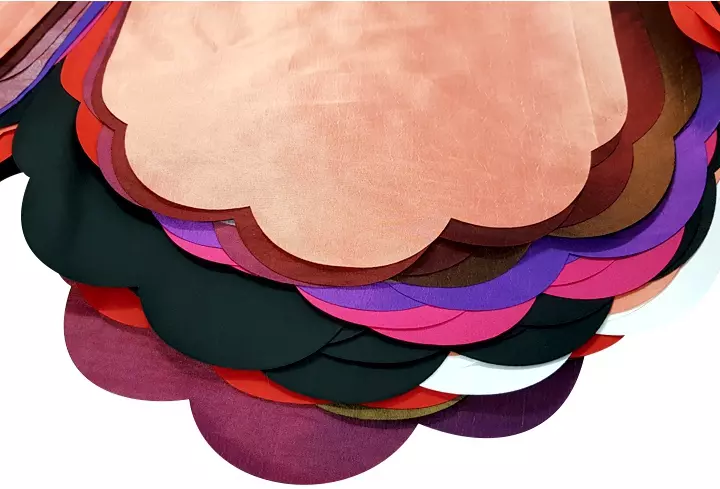 When you think about laser cutting, you likely see it as a very industrial process, and that's not entirely untrue. Laser cutting is used in a large number of heavy-duty utilities, from manufacturing to laser cut warning signs and beyond, so it's understandable that it is heavily associated with these fields. However, you may be surprised to learn the true versatility of laser cutting as a means of creating art, designs, fashion mockups and more.
At Vector & Raster laser cutting services, we have been fortunate enough to provide laser cut fabric to some of the world's most famous and iconic brands. Our laser cut garments have featured in prestigious fashion magazines and fashion runways worldwide. We've even had garments featured on TV, with pieces being worn by celebrities in a variety of fields. So, given our experience in the world of laser cut fabrics, let's take a look at the uses and methods involved in this process.
Why Laser Cut Fabrics?
Despite the continued automation of many design processes and elements in recent decades, fabric has still maintained an association with handiwork and manual labour in order to create high-quality pieces. Whilst the human approach is certainly a virtue in terms of quality when compared to a fully machine-operated system, the elements that go into these designs have been hugely benefited by the proliferation and recent ubiquity of laser cut fabrics in the fashion design sphere.
What Are the Benefits of Laser Cut Fabrics?
What once would have taken a considerable amount of time and labour for one small flourish or detail on a wider garment can now be created en-masse with a level of detail and consistency that simply isn't possible through traditional means. Whilst this has enormous implications for the world of runway design, where intricate details and bold style choices are an expectation of the field, the uses of laser-cut fabrics aren't always all glitz and glam. We also laser cut large volumes of applique for embroidery companies, which are then used on some of our favourite brand names on everyday clothing, such as hoodies, jackets, jumpers, t-shirts, caps, headwear, and more.
What Other Uses Does Laser Cut Fabric Offer?
Although it may be associated most heavily with the world of fashion design, laser cut fabrics have also made their way into more practical use as well. For example, our laser cutting services have been used by the defence force for professional attire, allowing for identifiable custom flairs and embellishments to be added to uniforms on a massive scale.
We have also created a large number of pieces for students and designers that are looking to create mockups for costumes and designs, which allows us to be a part of the creation process from start to finish. So, whether you're in the formative design stages or getting ready to show off your work on the stage and screen, Vector & Raster has the skills and experience to turn your vision into a seamless reality.
What Fabrics Are Best Suited to Laser Cutting?
There are going to be some fabrics that are more difficult to work with than others, as the laser cutting process can easily lead to burning and singeing when handled poorly. Luckily, our state-of-the-art machinery and high level of experience allow us to work with even the most delicate of materials (see previous blogs on our laser cut paper creations) without the threat of discolouration or damage. Common fabrics that we laser cut include, spandex, lycra, silk, satin, georgette, felt, chiffon, wool blends, polyester, cotton blends and much more.
Want to get started on your next laser cutting project? Explore our blog to learn more about what laser cutting is capable of, or use our get a quote page to start your laser cutting journey today!