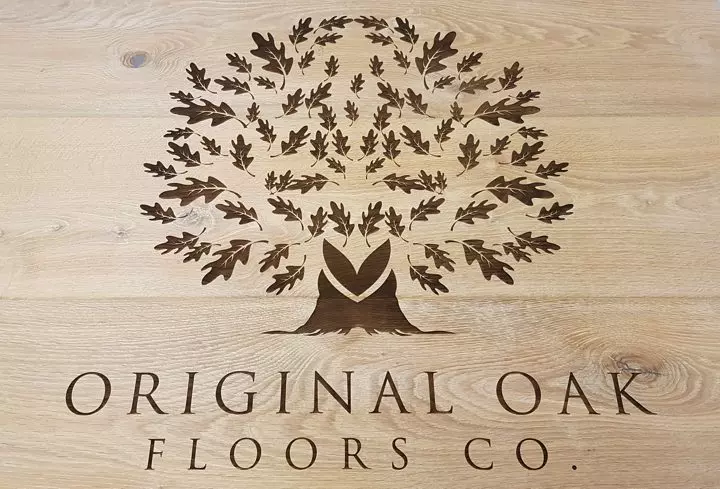 Laser engraving on wood is one of the most popular projects we receive here at Vector & Raster, and we have to believe that this is for a number of reasons. One reason in particular is the truly remarkable uniform 'burnt' finish that's created by the process of wood laser engraving. Wood is a versatile canvas when it comes to laser engraving, meaning that our clients can come to our engraving specialists here at Vector & Raster with fairly complex design proposals that are all more or less achievable. Design elements like fine lines or complicated shapes can be engraved into wood laser cutting materials with ease.
Another reason why wood laser engraving is one of the most popular kinds of projects that come through our studio doors, is simply because many enjoy the luxurious look and feel of engraved wood. When performed correctly, laser engraving on wood materials can look impressive for decades to come, effectively making your company logo feel as natural a presence as the wood itself. In other words, laser engraved wood projects are evergreen, so to speak!
What kinds of wood materials can be laser engraved?
There is an abundance of timber materials that can be used for laser engraving and cutting projects. Finding the right wood laser cutting material for your project is largely dependent on what you hope to achieve with your final designs. For instance, if you're looking to create a laser engraved wooden serving board, you're likely to use solid wood like maple, acacia, walnut, or cherry. If you're looking to create custom-made wooden toys that are made up of multiple paintable parts, then medium-density fibreboard is probably going to be your material of choice.
Alongside MDF and solid wood, our wood laser engraving specialists also have extensive experience working with bamboo, a range of soft and hardwoods, painted timber, and types of painted and unpainted plywood. Our engraving experts have also produced a wide array of wood laser engraved goods, ranging from laser engraved barrels and chopping boards, to wooden business cards, paperweights, hanging ornaments, and everything in between.
In today's blog post, we'll be looking specifically at a laser engraving project that saw our engraving specialists work with wood flooring materials provided directly by the client. Let's have a look at just how our laser engraving specialists were able to transform wooden flooring into a worthy testament of our client's own sturdy reputation.
Our wood laser engraving project
This particular wood laser engraving project consisted of engraving our client's company logo onto multiple planks of engineered wood flooring. The client communicated that they wanted the final product to be displayed in a showroom and that they required a high contrast on our laser engraved creation.
With this information to help guide our wood laser engraving process, our engraving experts took measures to ensure that the final design would possess the best possible finish with clean, sharp engraving. This was achieved by placing a laser mask over the engineered flooring to ensure that the wood surface stays free from any damage or dust build-up during the laser engraving process. This laser mask was removed upon completing the laser engraving process to ensure that no unsightly residue was left on the surface of the intact flooring or of the final engraved design. Once the mask was removed, the finished laser-engraved wooden flooring was ready to be installed in the client's showroom.
As you can see in the photograph provided of our finished product, the client's ambitious design was perfectly recreated by our wood laser engraving specialists. As wood laser engraving generally responds better to intricate designs, minimal changes had to be made to the client's original design proposal, making them quite happy with the end results.
What else can wood laser engraving be used for?
As we've stated, wood is an extremely versatile material, and so it can be used for a wide array of laser engraving and laser cutting projects. Common applications include wooden signage, displays, ornaments, and other home decors, promotional items for businesses or events, and a range of other consumer uses, such as in the design or development of wooden gifts or wedding favors.
Our laser engraving specialists commonly receive requests to engrave wooden items like lids, bread boxes, coasters, chopping boards, and a range of other wooden home and lifestyle goods. We love novel challenges here at Vector & Raster and are happy to take on projects of all shapes, sizes, and varying complexity. If you'd like to inquire about our wood laser engraving services, simply contact us via email or fill out our quote request form.
Why work with Vector & Raster for wood laser engraving?
At Vector & Raster, we're committed to ensuring that each and every single one of the design projects that enter our studio is handled with the utmost care and consideration. We pride ourselves on our ability to produce the best possible results with every client brief, no matter how complicated their laser engraving design proposal.
Want a free quote on your next laser cutting or engraving project? Simply fill out our online inquiry form to receive a free no-obligation quote sent straight to your preferred inbox.