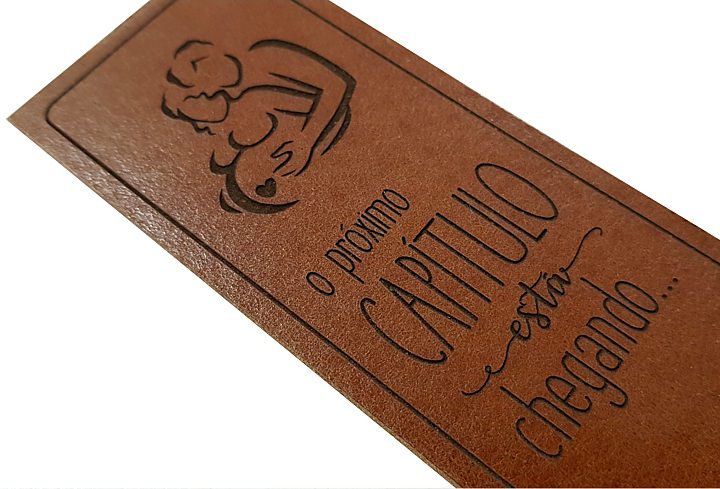 Whilst laser engraving is a process that can be applied to a wide range of different surfaces, there are some materials that just translate flawlessly into this art form. And leather is undeniably one of them, let alone engraved leather bookmarks.
As a natural origin material with a uniform texture, leather typically responds superbly to laser engraving technology, producing crisp and high contrast designs that perfectly complement the earthy colouring of leather hide. Because leather also happens to be a highly durable material, producing laser engraved leather goods like bookmarks can be a great method of creating personalised gifts that are genuinely built to last a lifetime.
The advantages of engraved leather bookmarks
But there are just as many practical applications as there are aesthetic reasons. This is what brings us to today's project overview. Stay with us as we unpack all the benefits that accompany laser engraving leather hide and provide a little more detail on how laser engraved leather can become bookmarks, belts, and a myriad of other high-quality (and personalised) leather goods.
In this blog, we will be unveiling the advantages of precise and personalised engraved leather bookmarks:
Top applications for laser engraved leather
A quick glance around any home space or even office environment will likely reveal an abundance of leather goods that could easily have been run through a laser engraving machine. Designer leather goods like belts, wallets, watch straps, handbags, jackets, shoes, and even car interiors can be laser engraved with ease during manufacturing, delivering exceptional results with every project.
In fact at Vector & Raster, we've been fortunate enough to have worked on hundreds of leather laser engraving projects to date, including high fashion and even personalising the leather interiors of luxury show cars! So our leather laser engraving specialists have been able to see firsthand exactly how stunning and stately laser engraved leather can be when used in even the most luxurious contexts and for the most premium applications.
But laser engraved leather goods can also be a staple of our day-to-day lives in the form of our wallets, belts, or even monogrammed notebooks or planners. In this regard, some of the top applications for laser engraved leather are actually for giftware or for producing personalised or bespoke gifts like the gorgeous leather engraved bookmarks that we're about to highlight today. Simply put, if you'd like to use laser engraved leather to produce any smaller gift items, chances are it'll be possible and our laser engraving specialists will be interested!
Engraved leather bookmarks: one of our favourite leather engraving projects
Now without further ado, let's have a closer look at our engraved leather bookmarks project. This was one of our favourite leather engraving projects here at Vector & Raster, and it was in short, such an honour to work on. This project was a unique opportunity for our laser engraving specialists at Vector & Raster to produce a beautiful keepsake that would be sure to bring a lifetime's worth of joy.
A customer came to us with a request for custom engraved leather bookmarks that would be used to announce the arrival of their baby! The expectant parents requested that the bookmarks be made in two different versions: one with English text and the other with Portuguese text, to honour the family's diverse ancestry.
For the Portuguese bookmarks, the family requested a section of the text be in a cursive font and the rest in a sans serif font to make space for accented letters. As you can see, the finished results are impeccable, providing clear and legible text accompanied by a detailed image and uniform square-rounded border to frame the full design.
With their excellent finish and durable design, these full-grain engraved leather bookmarks are sure to be treasured keepsakes that our lucky customers can enjoy for decades to come.
And who knows? This thoughtful memento may even make for a great 21st birthday gift for that same newborn to enjoy decades down the road.
What are the benefits of laser engraving leather bookmarks?
As leather is a naturally durable material, it's commonly used to produce personalised gift items that are built to stand the test of time. And whilst paper bookmarks are all fine and good, customising a leather engraved bookmark that's been built to last a lifetime's worth of reading and learning can make for a very heartfelt gift, to say the very least. 
As laser engraving is a non-contact process, you'll find that the strength of your leather bookmarks won't be impacted by the laser engraving process either. We can even work with vegan leather in order to produce cruelty-free leather engraved bookmarks! That being said, it's best to use full-grain leather for the best possible laser processing results and to ensure that your finished designs are uniform. 
We can provide leather materials for you here at Vector & Raster, as well as an array of other laser engraving materials. If you'd prefer to bring your own materials, this can be arranged as well. But in the event that you do bring your own leather materials, a sample will need to be tested to ensure that the material is suitable to be processed with our CNC engraving or laser engraving machines.
Why work with Vector & Raster for producing leather engraved products?
Our laser engraving specialists here at Vector & Raster have been taking on leather engraving projects for around twenty years now. In that time, we've produced thousands of different leather engraved products, including bookmarks, wallets, belts and other fashion accessories, and even custom seats and furniture items.
We'll work tirelessly to ensure that your leather engraved bookmarks align perfectly with your provided digital designs or the general brief behind your custom leather laser engraving project. Our expert laser engraving technicians will also draw on their decades of experience to ensure that your design works perfectly with your leather grain, as well as the weight and thickness of your leather material and the dimensions of your end product.
If you'd like to create your own engraved leather bookmarks or other customised leather goods to share with your friends, family, colleagues, or any other lucky gift recipients, then reach out to our Vector & Raster Laser team to get a quote on your next project today.