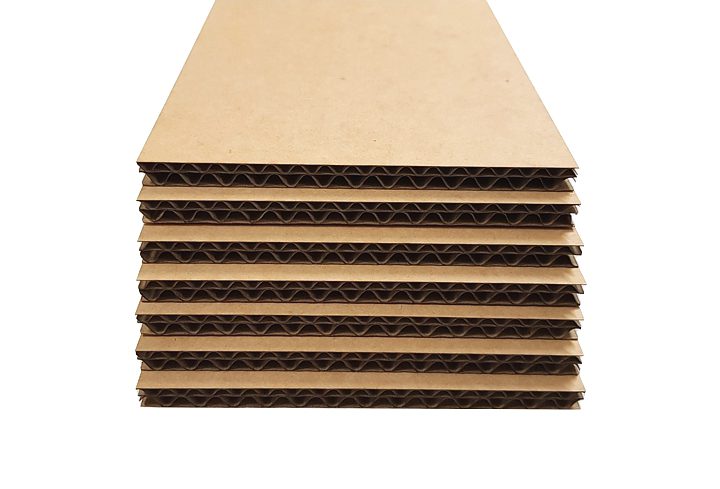 It's not always glitz and glamour here in our laser cutting studios. Sometimes, the projects that we take on are purely utilitarian rather than design-based, especially when it comes to laser cutting cardboard in bulk.  
But truth be told, our laser cutting specialists don't mind that at all because we know that even if we're taking a day off from flexing our creative muscles, the clients that we produce our materials for are going to be working on their own fantastical projects. This is exactly what made this particular cardboard cutting job just as enjoyable as one of our more intricate wood laser cutting projects.
The laser cut cardboard project that we'll be looking at today was produced to support National Science Week 2023. Our laser cutting specialists had a whale of a time preparing these clean-cut 6mm cardboard sheets knowing that they'd be used by little scientists in the making to showcase all their discoveries.
So without further ado, here's a little science report of our own. The topic? Exploring all the wonders of laser cutting cardboard, of course!
What You Need To Know About Laser Cutting Cardboard:
What can laser cut cardboard be used for?
Cardboard is a versatile material that was developed to suit a range of applications, from arts and crafts to shop displays and even construction. As most cardboard is produced using wood fibres or wood pulp, it possesses similar properties to paper as a material, just with the added benefit of three-dimensionality.
As for laser cut cardboard, processing paperboard or fibreboard sheets into precise shapes and sizes can naturally further add to the list of applications for this nifty, low-cost material. Alongside school projects and posters, laser cut paper and cardboard can be used for a myriad of different purposes.
Here are just some of the more common applications for laser cut paper and cardboard:
POS displays for retail environments 

Wedding or event invitations

Architectural models

Custom gaskets

and spacers 

Swing tags

Arts and craft applications
What type of cardboard is used for laser cutting?
Cardboard can typically come in two different forms: paperboard or corrugated or fluted fibreboard. Paperboard (also known as boxboard) is a thinner cardboard that's typically composed of a single sheet. This type of cardboard is most commonly used in the production of cereal boxes and other food and product packaging. 
If you're packing more fragile items, then you're likely to opt for corrugated fibreboard packaging instead. As its name suggests, corrugated fibreboard is a type of cardboard that consists of multiple layers or plies. There are typically two smooth outer layers that are joined by a thicker interior layer of S-shaped or honey-comb shaped corrugations or flutes.
Because of its additional layering and structure, corrugated fibreboard is an ideal material for structural applications like architectural models. As these intricate projects require materials to maintain precise dimensions, specifically our services in laser cutting are subsequently developed tailored methods for processing paper and cardboard alongside other solid materials like wood and metal.
Here at Vector & Raster, our specialists are able to laser cut paper from as thin as 60gsm through to dense boxboard and fluted cardboard that's up to approximately 8mm thick. This wide range allows us to take on a diversity of laser cut cardboard projects.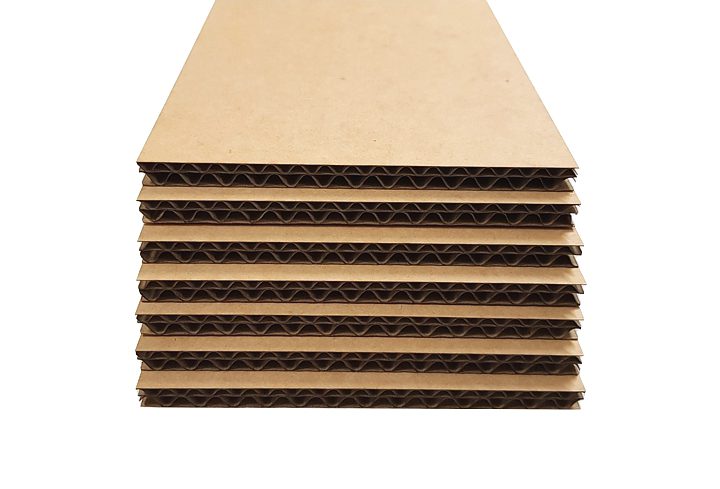 How do you laser cut cardboard without burning it?
Given that paper and cardboard are wood pulp-based materials, you may be wondering how it's possible for these materials to be processed under high heat without any burning or marking. The answer to this puzzling question is actually simpler than you might think.
For most solid materials like timber or acrylic, our laser cutting machines operate at a lower speed. This allows for a uniform cut with extra detail as it ensures the laser energy stays concentrated on the solid surface you're looking to process. 
This process looks a little different when laser cutting paper and cardboard, as these finer surfaces don't require a lower cutting speed in order to provide a clean cut. A clean cut can be attained at a much faster speed. In fact, a faster cutting speed also reduces the risks of your paper or cardboard material burning as your material is under the laser for significantly less time.
But whilst laser cutting paper and cardboard projects can be completed at a faster rate than other types of projects, there is one downside to working with these finer materials. Processing at a faster speed can mean that there is a greater chance of errors during the cutting process. Without a steady hand and a reliable cutting or laser engraving machine, you may find yourself going through multiple sheets of cardboard or paperboard before you find the cutting settings that work best for that material and job.
Thankfully, our laser cutting specialists have the experience and technical know how to laser cut cardboard, paper, and other fine materials to a consistently high standard. In addition to this, our own laser machines and software here at Vector & Raster allow for very precise control of numerous parameters, other than just power and speed. After many years of experience, we're proud to say we have a few tricks up our sleeve!
Our laser cutting cardboard project
Now let's finally dive deep into our most recent laser cutting cardboard project. As we mentioned, this project came to us as a bulk order from an interstate, not-for-profit enterprise that was looking to provide cardboard panels for students in time for National Science Week. The fibreboard sheets would be used to help students create their own science projects and accompanying visual displays. Our client specified that all the sheets needed to be uniform in size and support craft supplies. With this information, our laser cutting specialists opted to use 6mm thick fluted fibreboard to ensure that final products fit the client's stipulations to a tee.
Although these rectangular fibreboard sheets are by no means the most outwardly impressive work we have on offer, laser cutting cardboard is actually no easy feat. This is because corrugated cardboard isn't exactly a solid, consistent material. When you cut through it, you want to make sure that the corrugations are just as clean as the outward surfaces of your cardboard sheets.
The results really speak for themselves on this one. We couldn't have been happier with the clean lines and uniform edges that were produced in this laser cut cardboard project. Once we'd inspected all the cardboard cut-outs produced in this bulk order, we packaged it all up and sent it along to our clients, who were also just as pleased to receive all of the sheets perfectly in time for National Science Week 2023.
Why enlist Vector & Raster services for laser cutting cardboard
Our laser cutting specialists here at Vector & Raster love a challenge, to say the very least. Whether it's laser cutting cardboard or even laser cutting fabrics, we take pride in producing our materials to an exceptionally high standard. 
We specialise in large laser cutting runs for paper and cardboard projects but are also able to accommodate smaller production runs for personal or non-commercial applications. And regardless of the size and scope of your laser cut cardboard project, our specialists are confident that they can deliver their high quality results in accordance with your project deadline.
Want to see what Vector & Raster can do for you? Simply contact our team of laser cutting and engraving specialists today to receive a free no-obligation quote on your next project.