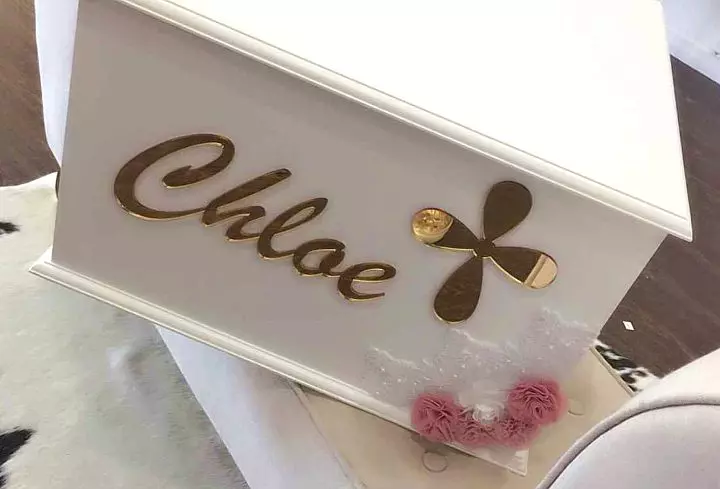 Every week we engage in laser cutting and engraving with Perspex and acrylic products. It is a popular service that we offer. When you see what we can do with these diverse materials it is clear why so many people invest in custom plastics.Just like any material we work with, we always strive to finish projects with a clean face and exceptional quality edges — regardless of the size and the scale of the piece. Our team is proficient with producing large components as well as intricate and delicate parts that require finesse and precision.
Giftware for Special Occasions and More
We are often commissioned to design and develop acrylic decorations and embellishments for a variety of events from birthdays and weddings to other occasions that require keepsakes or something unique and special.
Mirror acrylic is in vogue now and makes for a striking and aesthetically pleasing final product.
Our Acrylic Inventory
We stock a large range of acrylic sheets that come in a variety of colours and dimensions. This allows us to pass on the savings from buying in bulk to our customers and also allows us to process your orders in a timely manner.Stock is constantly being replenished and includes all the mainstream acrylic such as clear, black and white in 1mm, 2mm, 3mm, 6mm and 10mm. Our stock also includes colours such as red, blue, green, yellow, grey and, the ever so popular, fluorescent 3mm acrylic range.The real stunner these days is the mirror acrylic range which is available in a 3mm thickness. Apart from the traditional gold mirror and silver mirror which looks absolutely stunning, we also stock a range of coloured mirror acrylic which includes, blue, red, green, yellow, purple, pink and more.Just like any other materials we commonly use, if we don't have it in stock at the time, it's only a phone call away at one of our local suppliers.
Contact Vector & Raster Laser Services in Melbourne
In addition to acrylic laser cutting we also specialise in laser engraving and graphic design. To learn more about our services and how we can manage your project, call (03) 5783 4257 or request a quote.