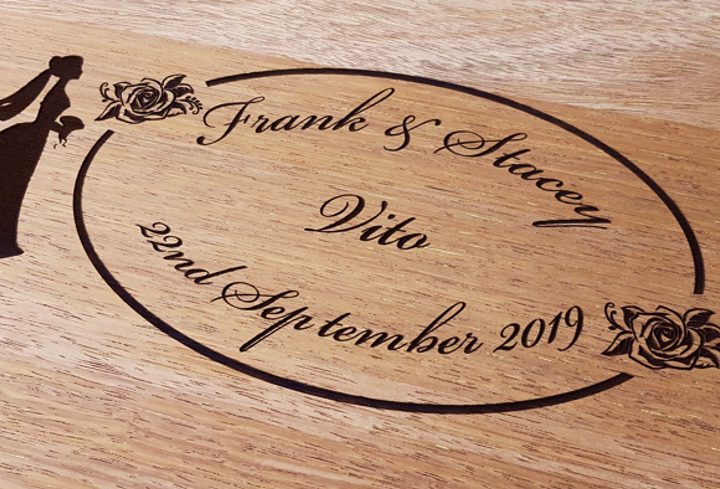 Laser Engraved Wood – Going Against the Grain With Natural Style
On the surface, laser engraved wood is an interesting idea. Engraved wood brings with it associations of antiquated rustic charm and natural craftsmanship, so bringing the efficiency and power of laser cutting into the mix seems like a clash between futuristic hardware and pre-modern aesthetics. Lofty symbolism and ideas aside, however, laser engraved wood is simply a beautiful way to display your designs in a stylishly understated way
At Vector & Raster, we have had the pleasure of laser engraving wood for thousands of projects across Australia. From restaurant signage to stunning wedding centrepieces, this incredibly versatile material allows for a considerable amount of diversity in its uses. So, to give you an overview of the process, and hopefully, help you design your next big project, let's take a look at all things laser engraved wood!
Marital Merbau
Simple, elegant and clean, this 900 x 600mm guest signature board was the perfect addition to Frank & Stacey's wedding. Using 19mm solid Merbau wood, which was later sealed with a satin clear coat and finished with a pencil edge, this piece was commissioned as a surprise gift for the newlyweds in the USA, where it was unveiled at the reception.
As this was both a gift and a piece to be displayed at a wedding, we knew that we had to create something that was tasteful yet immediately eye-catching. To achieve this, several different textures and approaches to detail were used. From the block black colouring of the bride and groom to the fine, sharp lines of the roses, each feature came together to form one beautifully cohesive whole that we are very proud of.
Why Choose Laser Engraved Wood?
As mentioned earlier, wood comes with a wealth of positive associations, conjuring feelings of rustic artisanal charm and an immediate sense of quality. Also, unlike materials such as paper or card, laser engraved wood is highly durable, so you can be sure that your finished product will retain its beauty and lustre for a long, long time.
With that said, to just say "wood" as an umbrella term doesn't quite give it justice as a choice of material, as there is a wide array of wood varieties to choose from. Some of the more popular choices include Victorian Ash (Vic Ash), Tasmanian Oak (Tassie Oak), Merbau, Pine, Redgum, Queensland Maple, American Cherry, Blackbutt and many others upon request. We can provide a myriad of different wood options based on your preferences and the purpose behind your project. Laser engraved wood is perfect for signage, decorative panels, high-end promotional products, marketing materials, and much, much more.
For another example of our previous wood projects, read this blog.
~
If you're looking for a way to bring some extra class to your creations, contact Vector & Raster today to discuss your next laser cutting project. With decades of experience working on thousands of laser cutting projects globally, we're Australia's laser cutting specialists.